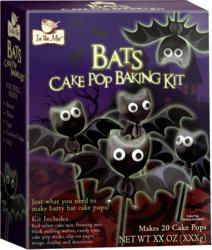 Bedford Heights, OH (PRWEB) June 17, 2013
Make Brand Castle's Halloween-themed baking kits the hit of your Halloween Monster Bash this Fall. Treat your ghosts and goblins to Brains Cupcakes and Bat Cake Pops that are sure to spook the entire family. Brand Castle's kits are easy to make, affordable and frighteningly delicious. Kits come complete with all mixes, frosting and baking accessories you need for fun and success in the kitchen.
"Halloween is for many kids their favorite time of the year, but for parents the idea of having to spend a lot of money to have fun with their children can be discouraging," said Jimmy Zeilinger, owner of Brand Castle. "Our baking kits are affordable and taste great! It's an easy way for parents and children to create a fun family tradition every Halloween."
Brand Castle's Halloween baking kits come in many bewitching and haunting treats, including such best-selling favorites as:
Brains Cupcakes - These tasty vanilla cupcakes know how to scare up a good time. Little monsters will be thrilled with the gooey Brains frosting. Contains vanilla cake mix, pink (flesh-colored) frosting, 12 skull aprons and piping bag. Makes 12 cupcakes.
Bat Cake Pops - Every party is a bit more spooky when Bat Cake Pops hang around! These chocolatey morsels provide a perfect bite of Halloween goodness. Contains red velvet cake mix, vanilla frosting mix, black melting wafers, candy eyes, printed wings, cake pop sticks and even a display stage. Makes 15 cake pops.
"The edgier the activity the better," adds Zeilinger. "We have seen a trend the past several years toward families throwing darker and scarier parties. Kits like our gooey Brains and Zombie cupcakes really appeal to this trend."
Brand Castle's creative baking kits make great gift ideas too. Surprise your little trick or treaters with something spooktacular this Halloween season. Kits cost between $3.99 - $7.99 and can be found at such fine retailers as Walmart, Target, Aldi, Toy's R Us, AC Moore, Home Goods, TJ Maxx, Big Lots, Ross Stores, Bed, Bath & Beyond and Cost Plus World Market. They can also be purchased at http://www.brandcastle.com and Amazon.com.
Ernst & Young Entrepreneur of the Year® 2013 Northeast Ohio Awards
Brand Castle owner and founder Jimmy Zeilinger has been nominated as a finalist for the prestigious Ernst & Young Entrepreneur of the Year 2013 award in Northeast Ohio.
Ernst & Young Entrepreneur Of The Year® nominees are evaluated by independent panels of judges for each regional program. The judges include past winners as well as business and community leaders. They know what it takes to be an outstanding entrepreneur and what measures really matter when it comes to selecting award recipients in each of several designated categories.
Regional award winners become eligible in the Ernst & Young Entrepreneur of The Year National Award in Palm Springs, California. The awards are the culminating event of the Ernst & Young Strategic Forum, a gathering of more than 2,000 business leaders from some of the best high-growth companies in the world.
About Brand Castle
Brand Castle is located in Bedford Heights, Ohio and was founded in 2005 by Jimmy Zeilinger and his wife Andrea. Brand Castle is the leader in interactive baking kits for consumers of all ages and offers an extensive selection of over 300 interactive baking kits sold under the brand names of Crafty Cooking Kits™ and In The Mix™ and other numerous licensed brands such as Disney, Hello Kitty and Crayola. Brand Castle interactive baking kits can be purchased on-line at http://www.brandcastle.com and at well-known retailers like Bed Bath and Beyond, Christmas Tree Shops, Toy's R Us, Cost Plus World Market, Target and Walmart. Brand Castle prides itself on providing consumers with high-quality, great tasting baking kits that create lasting memories shared between family and friends. For more information regarding Brand Castle's product line and opportunities, contact Jimmy Zeilinger at 216-292-7700 or e-mail him at jimmyz(at)brandcastle(dot)com.