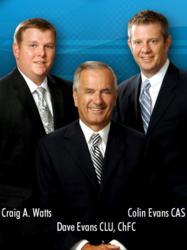 Evans Financial Group can help you create and preserve wealth through thoughtful planning, and without exposing you to unnecessary risk.
New York, NY (PRWEB) June 20, 2013
Evans Financial Group was awarded the "Best of the Best" designation for excellence by Follow Media Consulting, Inc. in the category of Financial Advisor Shreveport. This award signifies the continued commitment and dedication of the area best in wealth and financial planning and management services.
Evans Financial Group is a premier retirement, financial and wealth management firm serving Shreveport, LA and surrounding communities. They are also an independent registered investment advisory firm that provides genuine advice on retirement asset distribution planning, investment and wealth management.
At Evans Financial, they have found that the best way to alleviate financial worry is by being prepared. They arm their clients with the innovative and effective strategies needed to reduce financial worries and begin increasing wealth. They have worked with thousands of people in the combined 70 years they have in the wealth management industry and have helped many of them reach their financial goals. Whether someone is just getting started in their career, already retired or anywhere in between, Evans Financial Group can help them create and preserve wealth through thoughtful planning, and without exposing them to unnecessary risk.
Evans Financial doesn't have a template for their clients, and they don't have tiers of agents that work with only well-heeled clients. Each of their clients gets personalized service with a creative approach to wealth creation and benefit management. their mission is to empower their clients to make strategic decisions through the utilization of every resource. Add to this an experienced advisor that places a client's goals above all else. Evans Financial Group knows it's not the product that produces optimal results, it's the process and the strategies they use to employ it.
To know more about their services visit their website at http://www.evansfinancial.com or you may call them at phone number (318) 996-4390 to schedule and appointment.
About Follow Media Consulting, Inc.
Named one of the best SEO companies by Jonas Marketing, Follow Media Consulting, Inc. is a rapidly growing worldwide firm of SEO, Social Media, and Mobile Marketing Professionals. Follow Media Consulting, Inc. headquarters is located in Richmond, VA. However, our professional team is networked across the world, with regional offices across the United States, in the United Kingdom, Canada, Australia, France, South Africa, the Philippines, and India.