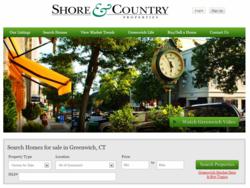 January hummed along quietly with 27 sales overall, but by February it was as if someone flipped the switch and the Greenwich market roared to life.
Greenwich, CT (PRWEB) June 18, 2013
Shore & Country Properties has just released area housing market data from the first quarter of the calendar year.
According to the firm, December 2012 saw 86 sales during what is traditionally a dead market, which should have been an indication of what was to come in 2013. January hummed along quietly with 27 sales overall, but by February it was as if someone flipped the switch and the Greenwich market roared to life.
As of June, it is a very strong sellers market, which few people saw coming. Any house that is fairly priced is snapped up immediately, often with multiple offers. Homes that languished during the 2012 market found buyers to be ready, willing and able. To help readers get a clear picture of the current trends, Shore & Country has posted the numbers for the first four months of 2013 on their website, http://www.ShoreandCountryProperties.com.
They show the median sale price for a single family home jumped six percent to $1,530,000 and, more impressively, the number of units sold is up almost 10 percent. Talk of the lack of inventory continues, especially in the $1,500,000 to $2,000,000 price point, and they already see a 53 percent gain in units sold as compared to 2012. The higher end inventory - $4,000,000 to $5,000,000 - increased by 400 percent, with 10 units trading during the first four months as compared to just two in 2012. Finally the third most active price range - $750,000-$1,000,000 - boosted 33 percent with 20 homes trading versus 15 in 2012.
For prospective homebuyers thinking of entering the Greenwich real estate market, current timing could not be better. Buyers will be getting in at the bottom of what the firm sees as a rising market coupled with low interest rates. As the seller, they can take advantage of the lack of inventory. While the buyers are active, they are also conscious of value. Few are willing to pay a premium just to land a deal and will wait for the well priced home to come along.
For more information on buying or selling, visit the Shore and Country Properties website.
About the company:
Shore and Country Properties was originally started by Russell Pruner in 1989 as Russell Pruner and Associates. His vision for a company comprised of the town's best full-time real estate professionals. Nancy Healy joined the company as a partner in 1996. Since starting her career in real estate in 1987, Nancy has been one of the town's busiest and well-respected realtors. Recently, her peers voted her one of America's Most Preferred Realtors. The year 2000 brought the addition of two more partners, Joan Epand and Ken Yorke. Each added yet more talent to the group, from Joan's marketing expertise to Ken's sharp accounting skills and operational abilities.
Both Russ and Nancy have served multiple time as President of the Greenwich Association of Realtors and the Multiple Listing Service and give their time to work on other committees. As a result they have a unique understanding of what it takes to run a successful real estate firm. And by carefully selecting only agents who represent the best of Greenwich, Russell Pruner and Associates quickly grew to become the leading independent real estate firm, serving all 50 square miles of Greenwich and lower Fairfield County.
"We handpick respected agents who demonstrate the integrity, expertise and personal touch that clients deserve when buying or selling their most valuable assets."
In 2003, Russell Pruner and Associates became Shore and Country Properties to let consumers know they service every neighborhood from the back country to the shore line. For the past 12 years, Shore and Country Properties has been the number one real estate company in Greenwich by selling their listings in the fewest number of days (81) and with the highest original list price to sales price at 93.75%. They continue to lead the Greenwich market in transactions and dollar volume while providing unparalleled service to their clients. It is their hope that the new website will draw visitors from around the globe to learn about this very dynamic company and this very special town.