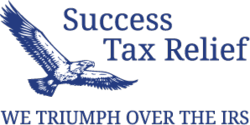 We are one of the only mobile tax resolution firms nationwide
La Porte, Texas. (PRWEB) June 19, 2013
The owner of Success Tax Relief, Thelma Sample, decided it was time to go mobile early this year. The decision came in an effort to tailor to their customer's needs as the owner did not want transportation issues to prevent their customers from getting the tax relief they need. The mobility factor has also helped to build their credibility in the tax industry and differentiate them from their competitors.
"We are one of the only mobile tax resolution firms nationwide," says Thelma Sample, owner of Success Tax Relief. "Unfortunately many tax relief firms still operate entirely by phone, but not us… we operate based on your needs so if you need us to, we'll come to you… we'll even fly to you if necessary."
Success Tax Relief also has an open door policy as transparency is of utmost importance to the owners. Physical interaction is welcomed at all times. In addition, the tax resolution firm offers 24/7 availability to accommodate individuals who work full time and have busy schedules.
"We do not hide behind a phone," says Thelma. "Unlike many agencies who do not disclose their physical location, we are happy to meet with you in person, and are always available around the clock."
Success Tax Relief is a full service tax resolution firm with over 30 years of experience located in La Porte, Texas. They have a track record of success working with the IRS and offer a wide variety of tax relief services. The firm recently acquired more office space and continues to hire new CPAs to deal with exponential growth.
###
If you'd like more information about this topic, or to schedule an interview with Thelma Sample, please call Thelma at 832.730-4890 or email customercare(at)successtaxrelief(dot)com