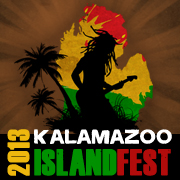 Kalamazoo, MI (PRWEB) June 18, 2013
Beginning Thursday, June 20, downtown Kalamazoo hosts the 18th annual Island Fest with a musical line-up featuring national reggae touring acts and local favorites.
Host and emcee of the event, Paul Toth, first started booking reggae music acts in Kalamazoo 25 years ago at Club Soda. The reggae nights at the former downtown musical hot spot helped nurture a growing reggae music community in the Kalamazoo area.
"Every year I get direct calls from numerous legendary reggae acts that want to perform at Island Festival," Toth said in the days leading up to the festival. "I am convinced that this is due to the loyal and knowledgeable reggae fans that have been supportive over the past 25 years."
The festival has grown in attendance each year as it attracts bigger named music acts along with more vendor booths and local food vendors, Toth said. "Many things come together to make the festival special. We started with a few bands and one food vendor 18 years ago. This weekend, we will be featuring 14 different live acts, three DJ's, 23 food vendors, and a myriad of arts and crafts vendors. We have always focused on the music being positive and uplifting, and I think this has been the guiding force behind the popularity of Island Festival and its growth over the years."
The event takes place at downtown Kalamazoo's Arcadia Festival Site, 145 East Water Street. Gates open each day at 11 a.m. for lunch, served by over 20 booths from local restaurants and eateries. Each booth offers a variety of affordable plates so attendees can try many different dishes, each offering its own unique cuisine.
The admission to the event is free each day before 4 p.m. On Thursday, admission is $3 from 4-7 p.m. and $6 after 7 p.m. On Friday and Saturday, the admission is $6 from 4-7 p.m. and $10 after 7 p.m. The festival runs until 12 a.m. on Thursday and 1:30 a.m. on Friday and Saturday.
The music lineup features reggae legends and national touring acts along with some local favorites like Zion Lion.
"I am very excited to see all of the headliners including Mykal Rose, Warrior king, and Dubtonic Kru, who are all making their debut performance at Island Festival," Toth said. "I get the most excited to see what I call our 'Reggae family' come together and enjoy the food, music, and company of one another. Just walk around and see the smiles on everyone's faces and you will know why I call this 'The happiest weekend in Kalamazoo'."
The music line up is:
Thursday June, 20 2013

Selecta Hazey/Locdown System: 5-6:30 p.m. and between sets
Ann Arbor Dub Project: 6:30-8 p.m.
DubTonic Kru w/ Kool Johnny Kool: 8:30-10 p.m.
Ras Kente and the Take No Prisoners Posse: 10:30 p.m. - 12 a.m.
Friday June 21, 2013

Universal Xpression: 11:45 a.m. – 1:15 p.m.
Lion Height: 4:30-5:30 p.m.
HaleAmaO: 6:30-8 p.m.
Universal Xpression: 8:30-9:30 p.m.
Warrior King 10-11:30 p.m.
Inner Vissions 12-1:30 a.m.
DJ Assane between sets
Saturday June 22, 2013

The Cliftones: 12-1:30 p.m.
Dunuya Drum and Dance: 2-3:30 p.m.
The Cliftones: 4-5:30 p.m.
Spiritual Rez: 6-7:30 p.m.
Outlaws I & I: 8-9:30 p.m.
Mykal Rose (Black Uhuru): 10-11:30 p.m.
Zion Lion: 12-1:30 a.m.
Dread-I Sound System Between Sets
DJ Triple Crown of the Blessed Coast Sound Between Sets
For more information on the festival, visit http://www.islandfestkalamazoo.com. For media inquiries or interviews, contact Paul Toth through his email address at ptoth2012(at)gmail(dot)com.