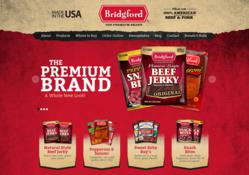 What an expert team. Idea listened to what we wanted and combined their professional opinion to design the best website for us. We are proud of the outcome.
(PRWEB) June 20, 2013
Bridgford Foods has launched a new website designed by Idea Marketing Group. Idea overhauled the Bridgford website, bringing them new branding as well as increased optimization.
Bridgford Foods Corporation began over 80 years ago in 1932 when founder Hugh H. Bridgford opened a retail meat market in San Diego, California. Over time, the business expanded into several meat markets and later, extended into meat wholesaling, processing, manufacturing and also distribution of foods such as beef, beef jerky, peperoni, salami and sausage. Today, Bridgford has four additional factories and provide direct to store delivery in Chicago. Bridgford Foods Corporation produces retail beef products and has even teamed up with the well-known Sweet Baby Ray's to combine the best barbeque flavors and quality beef jerky. Bridgford is proud to see their company grow and serve meat that is 100% USA made and owned while adhering to the highest ethical standards.
Bridgford needed a new website to take their company to the next level. They wanted their website to serve as a resource for their customers while simultaneously bringing more awareness to the Bridgford brand. Multiple features were included in the new website such as the Wordpress platform in which the website was built on. Wordpress allows backend users to easily update the website, even for users who aren't so tech-savvy. Wordpress is great for the blog allowing authorized users to easily go in and add or edit blog posts featuring information such as product launches, events or recipes. The new website also includes a full listing of all Bridgford meat products. Visitors can use the "where to buy" store locator function to identify retailers in their area that sell Bridgford products. A user can simply enter a state, city and zip code to receive a complete listing of distributors in their area that carry their favorite Bridgford products, and directly view the location on Google Maps.
Baron Bridgford II says, "Idea did a great job of assessing all of our needs and creating a product that exceeded our expectations. Our website is a resource for both our customers as well as employees and keeps our company healthy and growing. We couldn't be happier."
To check out the new Bridgford website, visit http://www.bridgfordfoods.com.