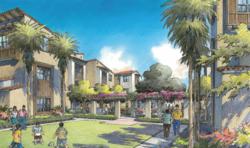 Birch Hills underscores Jamboree and Brea's commitment to develop a property that is a public/private milestone and has a high level of design/planning such as quality architecture/design elements, community open space and sustainability.
Irvine, CA (PRWEB) June 19, 2013
The Birch Hills Apartment Homes in Brea, CA, being developed by Irvine, CA-headquartered Jamboree Housing Corporation, was named the Outstanding Planning Project of the Year by the Orange County Section of the American Planning Association at its annual planning awards ceremony.
The American Planning Association is an independent, not-for-profit educational organization that provides leadership in the development of communities. The Association's mission is to develop, nurture, advocate, and recognize the values of good community and regional planning programs.
Birch Hills Apartment Homes is an urban, multifamily neighborhood located on a 5.8-acre infill site adjacent to an 18-hole executive golf course that is being renovated for public use. The new workforce housing apartment development is an integral housing component of the planned La Floresta community owned by Chevron Land & Development and being developed by Birch / Kraemer, LLC. When completed later this year, Birch Hills Apartment Homes will provide affordable housing for working families who earn between 30% and 50% of the Area Median Income (AMI).
Birch Hills Apartment Homes consists of 115 garden-style apartments in eight three-story buildings as well as a recreation building, all arranged around central courtyards that are linked by tree-lined, pedestrian-friendly landscaped walks. The Spanish-influenced neighborhood designed by KTGY Group, Inc., encompasses 22 one-bedroom, 47 two-bedroom, and 46 three-bedroom apartments that will feature larger-than-standard balconies to promote indoor-outdoor living.
In keeping with Jamboree's commitment to sustainability and the city's comprehensive energy conservation program, "Green Life, Green Brea," Birch Hills Apartment Homes is designed to be LEED (Leadership in Energy and Environmental Design) for Homes Platinum certified – the highest LEED rating – that will offer a significant level of energy efficiency and cost savings for its residents.
"This innovative project includes quality architecture and design elements, community open space, strong pedestrian connectivity and sustainability," said Brea Mayor Ron Garcia. "With Jamboree as the project developer and their solid reputation in delivering outstanding workforce housing, success represented by this prestigious award was predictable. The evidence of this success was also demonstrated in the public hearings held at both the Planning Commission and City Council level where strong community support for the project was consistently voiced."
Offering an array of community features, Birch Hills Apartment Homes will include a 4,400 square-foot community recreation center with conference, activity and media rooms, a community kitchen, computer lab and tutoring space, property management and resident services offices. Outdoor amenities include a pool, spa, barbecue areas, tot lots, and a community garden, as well as landscaped community spaces for outdoor recreation.
"We are honored to have this award bestowed on Birch Hills Apartment Homes, which underscores the commitment by both Jamboree and Brea to develop a property that is an important public/private milestone and which represents a high level of design and planning," said Laura Archuleta, president of Jamboree. "We believe Birch Hills will be a signature property for other workforce housing developments throughout California."
Additionally, the new Birch Hills neighborhood will feature original artwork designed by Orange County sculptor, Marlo Bartels, that is part of the City of Brea's art in public places program. The site will also be connected with the city's future "The Tracks at Brea" trail that will traverses Brea from east to west through the Birch Hills Apartment Homes site and the Birch Hills Golf Course. The trail will utilize former railway sections, as well as storm channel easements and other parcels, as it creates a strong linkage from Arovista Park to the La Floresta community now under development.
As part of the trail network, Birch Hills Apartment Homes will promote walkability with its location near bus service at Birch and Kraemer. It is also one-half mile from two grocery stores and a pharmacy, one mile from the Brea Mall – a regional retail center with shopping, entertainment, restaurants and job opportunities – and 1.5 miles from the Brea Public Library, Carbon Canyon Regional, Tri-City, Gilman, and Tufree Hill Parks.
APA criteria for selecting Birch Hills Apartment Homes for the Outstanding Planning Project of the Year award included: Originality: Is there a visionary approach or innovative concept that results in a meaningful advance of the planning process; Quality: To what extent is there excellence of thought, analysis, writing, graphics, and ethical planning; Comprehensiveness: To what extent have planning principles been observed, especially in consideration of the projects' effects on other public objectives; and Public Participation: To what extent was the public involved in this project and how was public and private support obtained.
About Jamboree
Founded in 1990, Jamboree Housing Corporation is an award-winning, nonprofit community development company that develops, acquires, renovates and manages permanently affordable rental and ownership housing throughout California for working families, seniors and people with special needs. HOMES, Inc. and Housing with HEART are 501(c)(3) organizations and comprise Jamboree's Resident Services Group. A leading nonprofit developer, Jamboree is committed to sustaining excellence with high quality affordable housing that is good for the environment, the economy and local communities. It currently has about $88 million in affordable housing projects in its development pipeline and a $1 billion asset portfolio that includes the development of and/or ownership interest in more than 6,900 homes in more than 69 California communities. Currently, Housing with HEART programs and services that foster learning, health and community building are offered at 31 Jamboree communities with designated staff at each location. For more information, go to http://www.jamboreehousing.com.