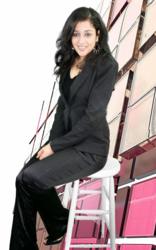 I have a passion for turning strangers into interested customers…for turning the uninspired into the ambitious…and moving passive people into engaged through interaction.
Sweta Patel
Global Marketing Tactics
San Diego, California (PRWEB) June 18, 2013
When Sweta Patel was asked to work on a golf marketing project in the UK, she did not think like a golfer. Instead, she thought like the marketer she has proven herself to be. When the smoke cleared on her first assignment, the client had sold 160,000 (British Pounds) worth of clubs through a simple but direct email marketing program (You can request a complete case history and article).
Patel, who is an expert in the practices of marketing development, search engine optimization, social media and the latest digital marketing tools, thought this approach was smarter, less time consuming and less expensive than some of the less direct, social media approaches.
"I have a passion for turning strangers into interested customers…for turning the uninspired into the ambitious…and moving passive people into engaged through interaction." Said Patel.
Sweta has also been hired by an international political organization, headquartered in Europe. She provides digital marketing, and social media planning for the organization. This group, supported by some of the most distinguished international sponsors and affiliates in the world, create an event every year in Europe. The same organization also battles in the women's rights arena, a political issue that Patel is passionate about. An unlikely account for a San Diego based consultant, but their goals and ideals match well with Patel's global perspective and interests.
A sought after speaker and trainer herself, she is working with several other global companies with offices in California in August, 2013 to train them in the latest online marketing strategies for their consumers.
"I will be teaching them how to use augmented reality and different apps to gain the hearts of their customers" continued Patel.
When she is not speaking and training, Patel runs Global Marketing Tactics. Their website (seen below) features many online training opportunities priced from under $100 to a years access for $600.
"I have taken some of the training that is featured on the Global Marketing Tactics web site", said Chuck Robbins, president of aro marketing. "I feel that I am pretty engaged with the latest digital tools and yet I found myself taking extensive notes to keep up with the rich content that is covered in her courses," he continued.
Patel, is a three time author, national speaker, and is headquartered in beautiful San Diego, California. Speaking, Training and Consulting Inquiries are encouraged.