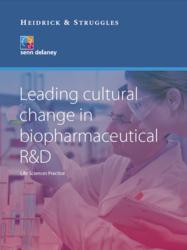 Los Angeles, CA (PRWEB) June 20, 2013
Heidrick & Struggles International, Inc. and its culture-shaping firm Senn Delaney have published a new thought paper, leading cultural change in biopharmaceutical R&D. According to the paper, despite remarkable achievements and breakthroughs, the biopharmaceutical industry is confronting massive upheaval and transformation. Culture change is one of the biggest and most important issues in the industry as traditional ways of doing things must give way to innovative new approaches, technologies and processes for greater efficiency and effectiveness.
Co-authors Heidrick & Struggles Life Sciences Partner Robert J. Atkins, Life Sciences Practice Principal Niren Thanky and Senn Delaney Partner and Managing Director EMEA Dustin Seale examine how biopharmaceutical leaders need to drive decisive R&D culture change across complex organizations in an attempt to remain relevant and competitive.
They delve into the answers to critical questions, including: What principles should guide organizations in their efforts to shape cultural change? What types of capabilities must leaders possess to bring cultural change to R&D organizations? How can organizations bridge the gap between the skills their leaders possess today and the skills they will need going forward?
"Executives of biopharmaceutical companies are confronting an industry in transition, one that is characterized by both massive upheavals and significant opportunities. To help their companies sustain a competitive advantage, R&D executives need to lead the effort to become more innovative and adapt to new technologies," says Heidrick & Struggles Life Sciences Partner Robert J. Atkins.
Senn Delaney's Dustin Seale adds: "Leaders will need to embrace open innovation with other companies and academic institutions to co-create new medicines. This will require companies to build new capabilities and collaborative skills as well as to develop a new mindset that promotes sharing of ideas outside the organization."
Seale cautions that implementing transformational cultural change in large, geographically dispersed and diverse biopharmaceutical organizations will require a leader-led approach to overcome challenges, including resistance to new ways of working. And Heidrick & Struggles Atkins says R&D organizations must both drive effective cultural change and build the leadership capabilities required to make this happen.
The thought paper is available on Senn Delaney and Heidrick & Struggles Web sites.
Download thought paper on Senn Delaney Web site
Download thought paper on Heidrick & Struggles Web site
About Heidrick & Struggles International, Inc.
Heidrick & Struggles International, Inc. is the premier provider of senior-level Executive Search and Leadership Consulting services, including culture shaping, executive assessment, succession planning, board effectiveness, leadership development and leadership strategy. For 60 years, we have focused on quality service and built strong leadership teams through our relationships with clients and individuals worldwide. Today, Heidrick & Struggles leadership experts operate from principal business centers in North America, Latin America, Europe and Asia Pacific. More information about Heidrick & Struggles
About Senn Delaney
Founded in 1978, Senn Delaney, a Heidrick & Struggles company is widely recognized as the leading international authority and successful practitioner of culture shaping that enhances the spirit and performance of organizations. Senn Delaney's passion and singular focus on culture, combined with decades of hands-on experience, have resulted in a comprehensive and proven culture-shaping methodology that engages people and measurably impacts both the spirit and performance of organizations. More information about Senn Delaney