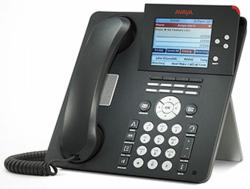 The Avaya 9600 IP phone line is the Cadillac series of IP phones from Avaya, for use with Avaya telephony platforms, such as the IP Office IP500 phone system.
Niagara Falls, New York (PRWEB) June 24, 2013
The new Avaya 9600 IP phones series, also known as Avaya one-X™ Deskphones, represents the cutting edge in VoIP (Voice over IP) technology. The family includes a portfolio of phones designed to meet a wide range of end-user needs. Designed as a stand-alone portfolio, these telephones may be intermixed with other Avaya IP telephones, especially the Avaya one-X™ Deskphone Value Edition (1600 series).
Packed with all the business communications features one expects in a high-end business phone, Avaya went further with the 9600 Series IP phones and provided enhanced features with an intuitive user-interface to make these phones very user-friendly. With up to 24 programmable feature buttons, these VoIP phones give you full control over your telecommunications environment. The 9600 series of VoIP phones also makes adding or moving phones easy.
Telephone Magic Inc., a long-time online leader in Avaya IP Office phone systems and telephones, offers the Avaya 9600 series IP phone line at wholesale prices. Jeff Jackson, president of Telephone Magic, notes, "The Avaya 9600 IP phone line is the Cadillac series of IP phones from Avaya, for use with Avaya telephony platforms, such as the IP Office IP500 phone system. Our customers trust the 9600 line because of its level of sophistication and reliable nature. They purchase them for their busy call centers, offices, and remote sites where multiple offices are linked together by VoIP technology."
The Avaya 9608 IP phone model is designed with H.323 version supported by Avaya Communication Manager 3.1.4 or later and Avaya IP Office R6 or later or the IP version supported by Avaya Communication Manager 6.0 with Avaya Aura Session Manager 6.0 or Avaya Midsize Business Template 5.2.1. The 9608 features a 3.2" x 2.2" monochrome display with 8 buttons with dual LEDs and 4 softkeys.Fixed features include phone, messages, contacts, history, home, headset, speaker, volume, mute. This phone also features a built-in headset interface.
The Avaya 9621G IP telephone offers power users a sophisticated business tool that is cost effective. The 9621G features a 3.7" x 2.1 color display, Touch Screen, Adjustable, tilting display, Speaker, Mute, Volume, Headset, Contacts, Home, History, Message, Forwarding, Volume & Phone buttons, and has separate volume adjustments for handset, speaker, ringer & headset.
The Avaya 9640G IP phone delivers the advanced communications capabilities of the regular Avaya 9640 with a secondary GigE port for a workstation or PC. The 9640G features a 3.8" color backlit display, 6 line appearances supporting up to 24 call appearances or features, 4 softkeys, 4 navigation buttons, Built-in full duplex speakerphone, and Dual message waiting indicators. The Avaya 9640G is compatible with IP Office R6.0 or higher only on IP500 and IP500 V2 control units. .323 version supported by Avaya Communication Manager R3.0 or later. SIP version supported by Avaya Communication R4.0 or later.
The Avaya 9650C IP phone is for receptionists and contact center agents - anyone who manages a large volume of calls. It delivers advanced capabilities like built-in button functions for one-touch access to bridges and feature keys. Supports a 1/4 VGA color screen. Specifically made for navigator telephone users that answer many incoming calls, transfer callers, and monitor bridges appearances throughout the day. The 9650C supports built-in button module functionality to provide simple one-touch access to bridged appearances, speed dials, and feature keysand sports 8 physical buttons with shift capability to 16.
Jackson says, "The 9600 IP phone line represents the cutting edge in VoIP telephony from Avaya. Our clients love this line - the phones generally never break down, unless they are literally thrown at a brick wall, and they are really easy to program and use. The fact we also sell them at wholesale prices, our customers end up paying the same price as they would for less robust IP phones. That is how we build long-lasting relationships with our clients."