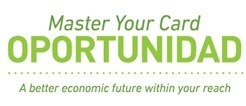 (PRWEB) June 17, 2013
WHAT: Media are invited to attend a panel discussion hosted by Master Your Card: Oportunidad, a national public education coalition that helps strengthen Latino communities through the benefits of using credit, prepaid and debit cards.
Panelists Carlos Menendez, Group Executive of Global Consumer Products, MasterCard; Sandra Jauregui, Director, Community Development and Partnerships, Financial Guidance Center; and a small business owner will discuss how electronic payment technologies can help Latino consumers and business owners get more from their money by moving out of the cash economy and into the digitally connected world. They will also highlight new product solutions that eliminate historical barriers to financial inclusion and lead to greater economic opportunity.
Manny Diaz, former mayor of Miami and current Master Your Card: Oportunidad advisory board member, will moderate the session.
WHEN/WHERE: Friday, June 21 at 9:15 a.m. PDT at the 84th Annual League of United Latin American Citizens (LULAC) National Convention & Exposition in Las Vegas at Caesars Palace Las Vegas Hotel & Casino
WHY: A disproportionate number of Latino households in the United States are either underbanked or unbanked, meaning they have little to no access to mainstream financial banking system. Instead, they rely on alternative financial services like check-cashing services and payday lenders that often charge exorbitant fees.
According to the Federal Deposit Insurance Corporation's (FDIC) National Survey of Unbanked and Underbanked Households released in 2012, 28.6 percent of Latino households are underbanked and 20.1 percent are unbanked. Nearly 52 percent of Latinos use alternative financial services in any given 30-day period.
These unbanked and underbanked rates for Latino households are higher than any other ethnic group. In contrast, 8.2 percent of all U.S. households are unbanked, while 20.1 percent are underbanked.
To request an interview with any of the panelists, contact Melisa Diaz at (202) 285-0785 or at Melisa(at)masteryourcardusa(dot)org.
For more information about Master Your Card: Oportunidad, visit http://masteryourcardusa.org/oportunidad.
###
About Master Your Card: Oportunidad
Master Your Card: Oportunidad is a coalition that aims to help the Latino community understand the full value of electronic payment technology to promote upward mobility and further financial inclusion for families and small businesses in the United States.
About Master Your Card
Master Your Card is a public education campaign by MasterCard® that helps consumers, small businesses and governments get more from their money by using prepaid, debit and credit cards to their advantage.