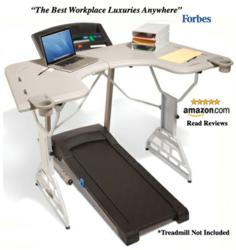 Over the years we have reported on hundreds of studies that share a common thread: inactivity leads to obesity and chronic disease and walking has the power to reverse or prevent the damage
Phoenix, AZ (PRWEB) June 18, 2013
A new study reported by Health Behavior News Service and featured this month in the American Journal of Health Promotion, there is a direct correlation between the amount of walking and the positive physical and mental health benefits derived among older males. The challenge for many men over the age of 55 in developed countries is achieving enough steps throughout the day to derive the health benefits of walking. TrekDesk Treadmill Desk offers a unique solution to the problem.
According to the study's lead author Jeff Vallance, Ph.D., associate professor in the facultly of health disciplines at Athabasca University (Canada), "men's health is becoming an increasing concern given their high rates of chronic diseases, diabetes and cardiovascular disease. In particular, health behaviors of older men have not been studied very much." Walking has long been recognized as a favorite form of exercise among the elderly however until recently few studies have measured the health benefits of walking (for this population) as opposed to overall physical activity.
The study focused on 395 men aged 55 or greater. 69% were overweight and 19% were classified as obese. Wearing pedometers the men were tracked and divided into four groups based on their total number of daily steps. The results found an increased correlation between the amount of steps taken daily and reports of overall physical and mental health. "Older men who averaged the greatest number of steps per day reported more optimal quality of life profiles, in terms of both physical and mental health, than older men averaging fewer steps per day," stated Nanette Mutrie, PH.D., a professor at the University of Edinburgh.
One surprising and important finding in the study focused on the effects of the average total number of steps taken. Even modest amounts of walking had positive impacts on health despite falling short of the conventional goal of 10,000 steps per day. While more walking translated into better health outcomes the researchers stressed that even minimal amounts of walking would be beneficial for elderly men.
"Over the years we have reported on hundreds of studies that share a common thread: inactivity leads to obesity and chronic disease and walking has the power to reverse or prevent the damage," stated Steve Bordley, CEO of TrekDesk Treadmill Desk. "This central health tenent applies to males and females, young and old. Consistent daily movement is critical to overall health and lifespan; our work and home environments and habits need to be modified with this in mind."
Designed to fit any existing treadmill, TrekDesk treadmill desk is an affordable, full sized, height adjustable workstation that allows individuals the opportunity to gain the necessary amount of daily exercise to lose weight, maintain health, reduce stress, prevent disease, strengthen muscles, boost mood and productivity, without requiring additional time during the day or extra motivation.
Join the TrekDesk "Movement Revolution" to learn more, spread the gospel regarding movement, or win a free TrekDesk http://www.facebook.com/trekdesk, or follow TrekDesk on twitter http://www.twitter.com/trekdesk. TrekDesk treadmill desk is currently available for sale online at http://www.trekdesk.com.