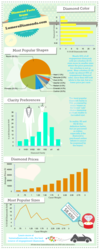 St. Louis, MO (PRWEB) June 20, 2013
LumeraDiamonds.com, a leading seller of certified loose diamonds has published a guide to the most common questions customers ask when trying to understand what is typical when buying a loose diamond or diamond engagement ring.
The guide is available online at http://www.lumeradiamonds.com/buying-diamonds/diamond-guide and covers popular questions such as "What is the most popular size and shape of engagement diamond?" and "What is the average amount spent on a diamond?" Customers simply want to know how their own plans stack up against everyone else. And while Lumera never uses comparative data to try to up sell a customer, the value of this information to the purchaser is understandable.
"Lumera's mission, in addition to offering the best value on a GIA certified loose diamond is to assist each customer in making an informed decision. A part of the responsibility is presenting information in a format that is easy to understand, as well as accurate. The new guide to engagement diamonds fulfils both aspects of that mission perfectly." stated Joe Brehob, President of Lumera Diamonds.
Purchasers can now see what clarity is the most popular and by how much, or what diamond colors other customers tend to choose most often. They can also see how popular each diamond shape is, such as how round diamonds account for over half of all engagement diamond sales in the U.S. This information can be used to reduce the anxiety associated with the purchase of a diamond, since the customer can now see exactly how their purchase compares to others. In addition, Lumera offers the services of trained consultants, who can assist customers in understanding why their individual needs might differ from the typical purchaser, and why.
For customers who choose to shop Lumera, in addition to the engagement diamond guide, Lumera also offers the ability to search for a diamond online, where the price is displayed along with every other detail of the diamond. Lumera has never had a sale, discount or promotion of any kind, and instead simply offers the best possible price to every customer, every day. This approach is unique in the jewelry industry, but one that fits well with the company's philosophy of fairness and transparency.
ABOUT LUMERA DIAMONDS:
Lumera Diamonds sells GIA certified loose diamonds through http://www.lumeradiamonds.com. Every diamond is backed by an exclusive Quality Guarantee, Lifetime Trade-in privileges, 30-day returns, and a written appraisal. Lumera was founded with the mission of promoting both transparency in the diamond business and education for the consumer; eliminating the mystery and anxiety that often accompanies the purchase of diamonds and jewelry.