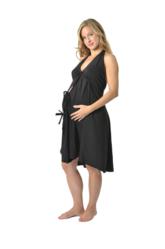 West Des Moines, IA (PRWEB) June 18, 2013
Bliss Baby & Maternity now carrying Pretty Pushers Labor & Delivery Gowns. Pretty Pushers labor gowns are a smart, soft, and stylish alternative to the unisex hospital gown for modern labor and delivery. Why wear a scratchy hospital gown on one of the most important days of a lifetime? Designed by a mom of two, Pretty Pushers creates a new option for new moms in labor. The gowns are disposal and they have a low cut back that allows for epidural access, and a tied open in front that makes monitoring easy.
Many women are bringing their own labor and delivery gowns to the hospital. They feel better in their own clothing and have a nice, pretty gown for the first pictures of mom and baby. These can also be worn after having baby, for easy access for doctors and nurses. The current hospital gowns that most hospitals have don't allow for access for IV's, fetal monitors, and epidurals.
Pretty Pushers offers style, comfort, and functionality all in one with smart design and 100% of its manufacturing done in the USA. Soft organic cotton, size 2-26, slouchy elastic-free underwear (with an ice pad pocket!) and effortless nursing wear are just a few of the many great aspects of the Pretty Pushers product line. Last but not least – it will fit any budget.
Bliss Baby & Maternity has a large variety of Maternity Labor & Delivery Gowns to choose from. Visit http://www.blissbabyandmaternity.com now and get a 10% discount on orders by entering SUMMER10 at checkout.