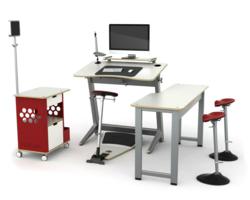 The workplace will be evolving away from sitting at desks, to incorporate healthier stand up options. Focal Upright offers the ideal "third way" of working with the Locus Seat, which splits the difference between sitting and standing.
Portsmouth, RI (PRWEB) June 19, 2013
Focal's Locus Workstation featuring the revolutionary Locus Seat--the first seat to promote leaning or standing--won the Product Innovations Grand Prize Award (furniture systems) awarded by BUILDINGS Magazine at NeoCon 2013.
Chosen from more than 700 exhibitors, the Locus Workstation was recognized as a product that creates an entirely new way to work. Focal's innovative approach enables workers to lean or stand and thus avoid traditional sitting. The Focal Locus Seat can be used with the Locus Desk or any other standing desk to promote mobile stability for traditional office work. The Product Innovations award was judged and awarded by BUILDINGS Magazine's editors at NeoCon, held at Chicago's Merchandise Mart.
As the Grand Prize winner, the Locus Workstation will appear in a special feature in the September 2013 issue of BUILDINGS Magazine.
"There has been tremendous interest in stand up desks now that we understand that sitting to work for long hours poses serious health risks. But standing to work is an imperfect solution as well," says Martin Keen, founder of Focal Upright and designer of the Locus Workstation. "The ergonomics team at Cornell University points out that standing to work creates an additional load on the circulatory system, increases the risk of varicose veins, and the performance of fine motor skills is less accurate when people stand rather than sit. The leaning option the Locus Workstation provides splits the difference between sitting and standing. The benefits of this "third" way of working has been recognized and praised by the wider ergonomic community. To have it recognized at NeoCon as a leading-edge innovative product further confirms that the workplace will be evolving quickly to incorporate healthier workstation options."
The Product Innovations Grand Prize marks the second major industry award won by the Locus Workstation. In December 2012, the Locus Workstation won the Ergonomics Conference & Exhibition Attendee's Choice Award.
Focal Upright Furniture was founded in 2012 by Martin Keen who previously founded Keen Footwear. Focal delivers innovative, body-conscious furniture and other products to help people work better and live better.
Focal Upright is headquartered in Portsmouth, RI. Focal products can be seen in Arlington, VA, Austin, TX, Boston, MA, Houston, TX, Los Gatos, CA, Montreal, Canada, Newport, RI, New York, NY, Portland, OR, Providence, RI, San Francisco, CA, and Tolland, CT.
To learn more about Focal Upright Furniture, please visit http://www.focaluprightfurniture.com.