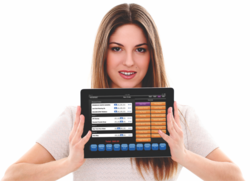 Las Vegas, Nevada (PRWEB) June 18, 2013
Next Gen Dine by Prelag Partners LLC selects nClosures to supply tablet restaurant point of sale systems with maximum security. nClosures will provide hardened ruggedized protective casing to iPad, iPad Mini, Android, and Windows Surface Next Gen Dine POS devices.
nClosures offers Next Gen Dine users table top mounts, swivel mounts, wall mounts for kitchen displays, and whatever security enclosure your restaurant POS system needs.
Servers and hostesses will be able to carry the tablet restaurant POS system anywhere and keep it protected. The kitchen wall mount displays will facilitate the process when orders are placed and sent to the corresponding prep station.
Next Gen Dine software is the first of its kind in the tablet restaurant point of sale market and the future of restaurant dining. For more information, please contact Paul Roberts by phone at 1-877-342-2218 or email at paul(at)nextgendine(dot)com.
nClosures Inc. is a US based design, engineering and manufacturing company specializing in Apple iPad and other tablet computer enclosures and mounts. We are leading the market in the development of secure, all-metal tablet enclosures and mounting solutions for interactive kiosks, digital displays, and point-of-sale (POS) applications. Our new iPad kiosk security enclosures are made from aircraft-grade aluminum and are powder coated with a natural aluminum finish or traditional black matte.
Next Gen Dine is a cloud-based, mobile restaurant point of sale software designed for the iPad. Restaurant owners can now capitalize on the benefits of a full-featured POS system for a fraction of the cost of a traditional POS. Due to the mobility offered by the software, employees can take orders directly at the table, take credit card payments at the customer's side, and drastically improve restaurant operating efficiency. Orders placed are sent directly to the appropriate prep station, therefore decreasing order turnaround time. Next Gen Dine also offers restaurant owners customer loyalty, gift card, social media, and fine-grained marketing tools.