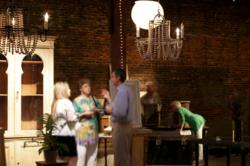 pieces here are over 200 years old", says White
Birmingham, AL (PRWEB) June 19, 2013
Dramatically lit French antiques and a sneak preview of Gabby's latest transitional furniture struck a pose in B&A warehouse's loft-meets-museum-like setting. Locally invited buyers and guests were able to truly judge the unique details of the curated pieces, magically displayed with live music and hors d'oeuvres. "Remarkable, truly remarkable," stated Paul Bentley, Gabby Sales Representative for Alabama and surrounding states. "The Gabby team has really upped the ante this time."
Slowly moving shadow play from B&A's unique skylights added to the auction platform creating an antiques-appropriate temporality, alongside the just-from-port feel of the rustic and sophisticated venue. "Time is a big part of this story. Most of the pieces here are over 200 years old from the Provence region of France. Our team of merchants has travelled over 5,000 miles and to countless antique fairs to bring something unique to our customers," says William White, President of Gabby.
A flowing bar and bourgeois-Southern, bite-size catering, and a raspy singer/songwriter kept the conversation endless for guests in this who's-who of the Birmingham antiques scene.
Showcasing the unique story in Gabby fashion were many illustrative antique furniture items. Each piece is original, like the dramatically painted black bookcase from the 1870s. You can almost visualize the carpenters laboring on a bench maker's vise, emoting hard work and timeless traditions long past. Narrating circuitous travels is a large earth globe with bronze reglette and painted wooden base circa 1880. A grand double birdcage illustrates love requited, in form and story. Many other objects of affection are deepened by the viewer's experiences: an 1890s pinewood bakery shop counter with six deep drawers, a pinewood island counter of sculpted wood, and an 1720s wood sculpted imposte.
Visit the Gabby showroom at the Atlanta Gift Market in July to see more pieces on display, and get the full story on their diverse collection of French antiques.
For more information about Gabby, or to speak with a representative, visit gabbyhome.com, or call 888-868-4267.
About Gabby
Drawing inspiration from both classic and modern styles, the Gabby family has an eclectic approach to design that is accentuated with vast confidence. Their home furnishings are often crafted by hand using a variety of unique materials that tell a wonderful story. Gabby's mission is to create innovative home furnishings that change the way people think about home décor. Our eclectic furniture is often crafted by hand using a variety of unique materials that tell a wonderful story.