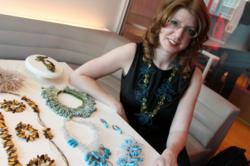 "The most important part of planning for fashion week is having a pre and post event marketing plan to help build momentum for the next event." Michelle Pajak-Reynolds, Jewelry Designer
Houston, TX (PRWEB) June 17, 2013
FashionMingle.net, a networking and PR platform for fashion entrepreneurs, is hosting a live webinar with three emerging designers who have successfully taken their collections down the runway in fashion week events from their hometowns to New York Fashion Week.
Michelle Pajak-Reynolds is a haute couture jewelry designer whose pieces are highly sought after by fashion stylists, celebrities and collectors. As a veteran of New York Fashion Week, Michelle has participated in Small Business Fashion Week and Nolcha Fashion Week, bringing a business-minded approach to preparing for a fashion week appearance and taking advantage of the opportunities that result. She was recently chosen as the first independent designer asked to participate in the Pro Football Hall of Fame 50th Anniversary Enshrinement Festival Fashion Show Luncheon.
Designer Anslee Connell made her debut on the Austin fashion scene as a full-figured designer and her collection, Savannah Red has appeared at Full-figured Fashion Week in New York and at Austin Fashion Week. Anslee will share insights and experiences preparing a clothing line to appear at high-profile fashion show events.
Melissa Greggs is a designer and stylist and the founder of Jenise Gregg Couture. Greggs has participated in New Orleans Fashion Week and numerous fashion shows in her hometown of Houston, TX.
The Runway Roadmap is a 4 part series and introduces fashion designers and their teams to industry professionals who provide expert advice on producing a successful fashion show. Recorded webinars can be viewed online at the FashionMingle.net web site.
Previous interviews have covered styling and promoting fashion shows and appearing during New York Fashion Week. The final installment of the Runway Roadmap will be a discussion with fashion show producers from New Orleans Fashion Week, Nolcha Fashion Week, and Mercedes-Benz Fashion Week. Designers and fashion show producers will get insight and advice on how to put on the perfect fashion show.
The "Runway Roadmap" series is produced by Jaxon Entertainment & Productions and is sponsored by Planet Fashion TV, Created Woman Magazine, and the Houston Fashion Bloggers Association.
About FashionMingle.net
FashionMingle.net is a network for fashion entrepreneurs to share, discover, and mingle. The online magazine, business directory, and social network creates a platform for fashion entrepreneurs to promote their services and grow their business.