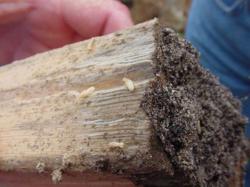 "In the wake of a natural disaster, pest control is probably the last thing on your mind; however, it's important to remember that pests can actually add to the destruction of your home and your community,"
PARSIPPANY, N.J. (PRWEB) June 18, 2013
As many states along the East Coast prepare for hurricane season, experts from Western Pest Services, a New Jersey-based pest control company with branches throughout the Mid-Atlantic and Northeast regions, advises homeowners to consider the pest implications of strong winds, rain and flooding.
"In the wake of a natural disaster, pest control is probably the last thing on your mind; however, it's important to remember that pests can actually add to the destruction of your home and your community," said Phil Pierce, technical services manager for Western Pest Services. "It may seem trivial at the time, but if your home has been affected by a storm, it is most likely more susceptible to pests than it was beforehand. And if pest implications are not taken into consideration, they can cause additional damage down the road."
According to the National Oceanic and Atmospheric Administration Climate Prediction Center, forecasters predict an above-normal Atlantic hurricane season, expecting 13 to 20 named storms, seven to 11 hurricanes and three to six major hurricanes; a normal season for the Atlantic Ocean would include 12 named storms, six hurricanes and three major hurricanes. This forecast means more potential for increased pest pressures.
Pest threats increase after a storm for several reasons. Pests, just like humans, are often displaced after a storm and seek new shelter, leaving nearby homes a target. Changed conditions – structure damage, debris, increased moisture -- in and around your home also contribute, providing new breeding grounds for pests.
"The best way for homeowners to be prepared is to understand the conditions that attract pests, what pests to be on the lookout for and the home maintenance steps that should be taken post-storm and made a priority," says Pierce. "Understanding this information can help reduce your risk of pest infestations and the added headache these pests can cause."
Western Pest Services recommends that homeowners take several simple, but necessary home maintenance steps after a storm to help protect against pest infestations:

Clean up spilled garbage cans and torn garbage bags as soon as possible. This will help keep hungry animals, from rodents to raccoons, away from your home.
Caulk, seal, and screen any openings that pests could easily maneuver their way through.
Diligently search for rat burrows or any other possible evidence of rodents around the perimeter of your home or yard.
Use a moisture meter to inspect for wood damage. Even minimal structural or water damage to your home can create breeding grounds for fungus- and moisture-specific pests.
Look for downed trees and wood debris along the exterior of your home. The closer to your home down trees are, the higher your risk of a carpenter ant infestation.
In addition to being educated about clean up-tips, homeowners must understand that pest control programs already in place – both inside and outside the home – may have been disrupted by the storm.
"After Superstorm Sandy, many of our branches observed homes where termite barriers were compromised due to flooding," explains Pierce. "This treated soil is the first line of defense against termites and when compromised, can render homes vulnerable to potential invasion and structure damage."
If you think you have a possible infestation, contact a pest management professional immediately. A pest management professional can evaluate your property and determine the appropriate ongoing treatment options for your home.
To learn more about the pest implications of hurricanes, visit http://www.westernpest.com/blog.
About Western Pest Services
Founded in 1928, New Jersey-based Western Pest Services provides quality pest control to residential and commercial customers with services including: termite control, bed bug detection and extermination, stink bug control, mosquito control and home protection plans. Serving the Northeast and Mid-Atlantic United States, Western is a wholly-owned subsidiary of Rollins, Inc. (NYSE: ROL). Learn more about Western by visiting http://www.westernpest.com. Connect with Western Pest Services on Facebook and YouTube, or on Twitter @WesternPestSrvc. Learn more about Rollins by visiting http://www.rollins.com.