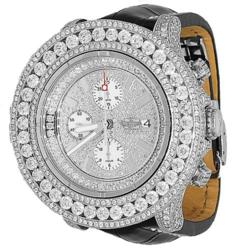 New York, NY (PRWEB) June 18, 2013
Wristwatches are a vital piece of any gentleman's wardrobe; however, over the past fifty years, traditional timepieces have evolved from simple and functionally-sound devices into unflinching symbols of affluence. Few wristwatches successfully project these bold sentiments as well as the exceptional diamond Breitling watches designed and distributed by the master craftsmen at Avianne Jewelers. Refining their craft for two decades in New York City's legendary Diamond District, the team has become known for their consistently evolving selection of exquisite diamond jewelry and also for their creative and loyal clientele worldwide.
While their gallery of Mens Diamond Watches is filled with an assortment of sensational luxury brands along with a variety of customizable options, the Custom Breitling Super Avenger Mens Diamond Watch is among the finest in the jeweler's collection. This one of a kind timepiece is fully flooded with a 3.5 carat case featuring three mother-of-pearl sub dials and a handcrafted bezel measuring 54mm in diameter micro-set with 13.50 carat diamonds. Among the jeweler's finest Diamond Breitling watches, the Super Avenger is detailed with a single crown and two buttons and its 6.58 carat diamond case is secured with a variety of interchangeable wristbands, the standard and most elegant being the black leather band which locks with a fully flooded 1.75 carat buckle clasp closure.
Made exclusively for hip-hop record producer and world-renowned MPC aficionado Araabmuzik with an assortment of customizable bands and faces, the Super Avenger commands the attention of those occupying every room the wearer enters. Among his favorite pieces, the custom Breitling has been worn by the artist during a number of his live performances. A powerful gesture for those bold enough to wear it, the Iced-Out Breitling Super Avenger Diamond Watch by Avianne & Co. is specially priced at $18,500.00. For more information regarding their collection of Mens Diamond Watches, call 888-243-4344 to speak with a dedicated sales representative.