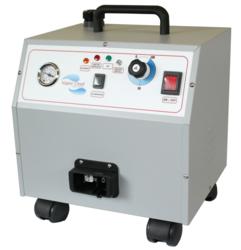 New Milford, NJ (PRWEB) June 18, 2013
Kleen Car in New Milford, NJ announces the Vapor Chief commercial steam cleaner in use at major rental car companies. Many car rental agencies have unique problems and concerns in keeping rental cars clean. The turnover of rental cars is constant and they need to be at the ready at all times. They also need to be clean both inside and out. However, many locations where cars are housed do not allow water runoff and have no standard "wash bay" or actual car wash equipment at the location. This issue needed to be addressed and this major car rental company needed a creative and effective car washing solution.
Steam washing solved 2 problems
With the help and expertise from Kevin Farrell, owner of Kleen Car, this rental car company was shown a unique, cost effective, and time saving car wash solution. Steam cleaning with the vapor Chief steam cleaner is a perfect way to wash a car without a regular car wash tunnel, with limited use of water, and zero water runoff. Farrell demonstrated the Vapor Chief steam cleaner to the car rental agencies and showed how steam car washing can be accomplished. Farrell understood the issues of limited water and limited time to get the job done.
The high pressure steam, high temperature, along with special brushes, allows the Vapor Chief to clean a car with steam. The process will not damage the paint surface or take too long to get the job done. After showing them how to get the job done this way, the agency promptly ordered multiple units for multiple locations. It's the same process that is in place for a major car manufacturer that Farrell developed for their vehicle distribution centers. The cars get cleaned with the Vapor Chief as fast and clean as conventional washing, with zero water runoff. That was a huge problem before employing steam cleaning.
Another important steam cleaning use
In addition to cleaning the outside of the cars with steam, Farrell showed how to quickly clean the car's interior with steam and how to sanitize and disinfect key surfaces. With the constant turnover, especially at metro airports, rental cars need to be cleaned extremely fast. While the steam cleaning method has proven to clean the exterior without water, while being just as fast and effective. They have added interior steam cleaning to the rental cars to clean and sanitize the areas that accumulate dirt and germs. Steam cleaning a car interior can be done very fast and it will sanitize key areas such as steering wheels, arm rests, seats, dashboards and areas that customers touch and get dirty or spread germs. The interiors when cleaned with the Vapor Chief, have a fresh smell, eliminated odors and are totally dry by the time the next renter takes possession of the vehicle.
To get the job done, they needed a commercial steam cleaner and a company experienced in car cleaning to apply all of this. The Vapor Chief is ready at all times and in use sometimes 12-14 hours per day. It can handle the work load. With the most power of any 120 volt steam cleaner, it can take on even the dirtiest vehicles. Rental car agencies, as well as car manufacturers now use the Vapor Chief to steam clean vehicles both inside and out without the use of large quantities of water or chemicals. There are not many steam cleaners that will be able to handle jobs such as this. The Vapor Chief commercial steam cleaner has proven to be effective in all cleaning industries.
At many rental car facilities conventional car washing cannot be done. They will need a better way to quickly and effective clean and sanitize interiors. Steam cleaning both the interior and the exterior of a vehicle is a perfect solution. Kleen Car and the vapor chief steam cleaner was the solution.