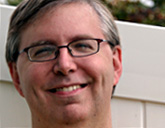 "His commitment to family friendly games is complementary to our focus on transformational games. He will be a critical part of our success as we continue to build awareness of games that change people for the better. " - Jesse Schell, CEO of Schell Games
PITTSBURGH, Pennsylvania (PRWEB) June 20, 2013
Schell Games is pleased to announce that Paul Stephanouk will join its team as Vice President of Design, effective immediately. After an extensive nationwide search, Stephanouk emerged as the best candidate for the position, given his background as an accomplished game producer, designer, programmer and author. Stephanouk will work closely with CEO Jesse Schell, leading the design team and directing the vision for the company's many projects.
Prior to joining Schell Games, Paul Stephanouk was the Executive Producer at Zynga's East Coast studio in Baltimore, Maryland, which he helped establish in 2009. He led the production of the online hit 'FrontierVille' and other notable games during his tenure there. Stephanouk previously served in leadership roles at Big Huge Games, where he honed his experience in producing and designing video games for consoles, PCs and the web, including Catan and the award-winning Rise of Nations.
"We are very excited to have Paul join us at Schell Games. His stellar reputation in the game industry precedes him," remarked Jesse Schell, CEO of Schell Games. "His commitment to family friendly games is complementary to our focus on transformational games. He will be a critical part of our success as we continue to build awareness of games that change people for the better. "
"Schell Games has a reputation for designing and producing some of the most innovative games around," commented Stephanouk. "I'm thrilled to be joining this company and for the opportunity to lend my experience to this creative, original group of talented people."
About Schell Games
Schell Games is a full-service game design and development company with a focus on creating transformational games and innovative, interactive experiences. Founded in 2002 by world-class game designer and renowned author Jesse Schell, the studio, based in Pittsburgh, PA, heralds a highly talented array of artists, programmers, producers, and game designers. Schell Games specializes in creating memorable experiences through mobile, console, handheld, online and social games, interactive theme park attractions, internet-enabled toys and virtual worlds. The company counts some of the world's most respected brands as clients, such as Yale University, SeaWorld Parks, The Fred Rogers Company, The Walt Disney Company and Microsoft Corporation. For more information on Schell Games, visit http://www.schellgames.com or contact us at info(at)schellgames(dot)com.