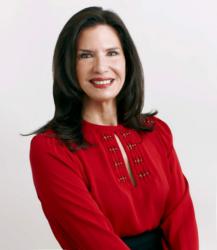 It is truly an honor to be recognized for that vision and to be named Practitioner of the Year.
Mount Kisco, NY (PRWEB) June 17, 2013
Co-Communications, Inc., a full-service public relations and marketing agency, is pleased to announce that Stacey Cohen, President of Co-Communications, was honored with the 2013 Practitioner of the Year Award at the Public Relations Society of America (PRSA) Connecticut Valley, Southern Connecticut and Westchester/Fairfield Chapters' 18th Annual Mercury Awards celebration.
The Practitioner of the Year award honors a PRSA member in the tri-chapter area who has significantly served the profession through a history of achievement and reputation.
"When I opened Co-Communications as a sole practitioner 16 years ago, my goal was to develop an agency that was collaborative, creative and deeply committed to achieving the strongest possible results for its clients," Stacey Cohen, President, Co-Communications. "It is truly an honor to be recognized for that vision and to be named Practitioner of the Year."
Stacey Cohen founded Co-Communications in 1997 as a full-service public relations company. She began her career at Marsteller Inc. (a division of Young & Rubicam), where she was responsible for expanding the corporate communications program for advertising executives. She then held senior positions in both PR and Marketing over a six-year period at CBS/FOX Video.
Stacey sits on the Board of the Business Council of Westchester, where she serves as Chair of its Marketing Communications Council and a Rising Stars Committee Member. She has been featured in Entrepreneur Magazine, Crain's, Sales & Marketing and other leading national publications. Stacey holds a B.S. from Syracuse University and a Master's in Business Administration from Fordham University.
About Co-Communications:
Co-Communications, Inc. is a full-service marketing and public relations firm which provides high-impact communications programs tailored to the needs of its clients, developing a distinct strategy that targets new business and measures the success of every campaign. Representative services include strategic planning, branding, public relations, media relations, inbound marketing, and social media. The company was established in 1997 and has gained widespread attention for its creativity, researched-based campaigns, first-rate service and results-oriented approach. Co-Communications serves clients in such industries as real estate, healthcare, finance, technology and non-profit. Co-Communications was recognized with the Forbes Enterprise Award and has earned awards from industry trade organizations including the Public Relations Society of America, Advertising Club of Westchester and Association for Women in Communications. Headquartered in Mount Kisco, N.Y., Co-Communications has satellite offices in Farmington, Conn. and New York City. For more information visit http://www.cocommunications.com.