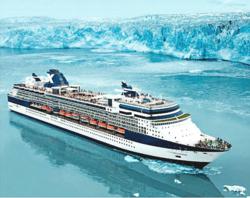 Our attendees learn how to recognize good subjects and how to capture them imaginatively– with a firm concept in mind of exactly what they want their images to say.
(PRWEB) June 19, 2013
Seattle, WA: Arthur Bleich is a professional photographer, teacher and writer who has captured thousands of images in the polar regions of the Arctic and Antarctic. His clients sometimes kid him about being "bi-polar."
On August 30, 2013, his popular Digital Photography Workshop Cruise will embark from Seattle on an eight-day Alaska adventure aboard the Celebrity Solstice to Ketchikan, Juneau, Sawyer Glacier, Skagway and Victoria, BC.
Attendance is limited to a dozen photo enthusiasts. At past workshops they've ranged in age from 18 to 90, were at different skill levels and owned both simple and complex cameras. "The only thing that matters," says Bleich, "is a desire to make better pictures; by the time the workshop ends, they'll not only have made meaningful images, but will have the tools to go much further."
Bleich, whose award-winning work has appeared in media worldwide, has conducted photo workshop cruises for more than ten years and has highly-refined his teaching techniques. "All great images contain similar elements that lift them above the rest," he explains. "Unless photographers recognize these elements and know how to incorporate them into their own work, they might as well be shooting blindfolded."
He continues: "You might get lucky in a hit-or-miss way but your chances improve tremendously if you have a clear vision of what you're after. Our attendees learn how to recognize good subjects and how to capture them imaginatively. Suddenly, they're thinking like pros and shooting with a firm concept in mind of exactly what they want their images to say."
Of course it also helps to have great subject material. Workshop attendees will capture images of timeless totem poles, Indian dancers, grizzled pioneers, historic Russian Orthodox churches with beautiful religious icons, gold mines and canneries, breathtaking scenery and abundant wildlife– bears, eagles, whales, exotic seabirds and more.
Those who want a particularly unique experience can take a half-day train trip on the White Pass & Yukon Railway out of Skagway and shoot magnificent landscapes from high trestles, remote valleys and at locations with names like Bridal Veil Falls and Dead Horse Gulch.
Bleich has shot assignments at more than 50 locations in Alaska and is intimately acquainted with its history, people, and geography. "A highlight of the workshop," he says, "will be cruising Tracy Arm, a narrow fjord leading to magnificent Sawyer Glacier where giant slices of ice weighing millions of pounds can tumble into the water with a thunderous roar as they become new-born icebergs."
Demonstrations and lectures will be held in the workshop's private, high-tech conference room where attendees will also have their images reviewed. Past participants cite the review sessions as the key to rapidly improving their photographic skills.
Enrollment is limited to 12, assuring individual attention in a relaxed and enjoyable learning environment. All-inclusive costs begin at $2,490, with non-attendee companions paying less. For further information visit: http://www.dpcorner.com/cruise or call 1-800-652-2267.