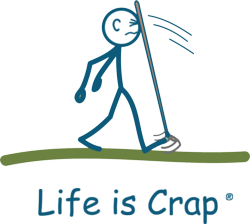 We believe this celebration should become a national holiday
Manchester, VT (PRWEB) June 20, 2013
The crew at Life is Crap, a very funny t-shirt company, nestled in the Green Mountains of Southern Vermont are planning an inner-office blow out celebration for this year's International T-Shirt Day on Friday June 21, 2013 – which also happens to be the longest day of the year. "The longer the better…," say Paul Wheeler and Ken Lefevre, owners of the Life is Crap T-shirt Company. "This will give everyone more time to wear as many t-shirts as possible in a 24-hour period."
The very funny guys at Life is Crap are planning an action-packed, fun-filled day of activities for t-shirt wearers. Starting with a sunrise hike to the Top of Stratton Mountain where they will pay homage to the T-shirt Gods, Delta, Gildan and Hanes, to be followed by a t-shirt buffet breakfast contest: "Who can spill the most food on their t-shirt and still recognize the Life is Crap design. The winner will receive, of course, a free tee.
There will also be games like Capture the Tee, Pin the Tail on the Tee, and Team Tee Frisbee which consists of a Frisbee wrapped in one of their classic Frisbee tee designs. A barbecue, a volleyball game, and an evening of dancing to the Nittee Grittee T-shirt Band. The evening will be topped off with a midnight t-shirt vigil and the final sacrificial Burning of the Tee, which will happen at the stroke of midnight.
"We believe this celebration should become a national holiday," says Wheeler, one of the Kings of Crap, "and we intend to lobby congress vigorously next year to declare this a national holiday!" Wheeler is hopeful that this might be one legislative act Congress finds a unanimous consensus on and party unity, given its obvious importance.
Even though the celebration is limited to office staff and their family and friends, Life is Crap encourages everyone to celebrate this momentous holiday in their own special way.
In honor of this special day Life is Crap is offering Free Shipping on all orders on Friday June 21st.
Use the Code: TDAY2013 at Checkout
Party responsibly, and remember, "Crap Happens & laughter is the cure!"
Visit their site for more information and of course more t-shirts. http://www.lifeiscrap.com