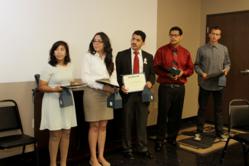 We were excited to award five scholarships to the children of Vista Metals employees
Fontana, CA (PRWEB) June 18, 2013
On June 11, 2013, Vista Metals Corp. awarded five Highest Caliber Scholarships in a private presentation dinner held at the Vista Metals facility. This is the company's first annual internal higher education tuition fund. The scholarship will provide financial assistance to the children of Vista Metals Corp. employees who plan to or are currently pursuing a higher education degree. Vista Metals Corp. is the world's largest independent producer of specialty aluminum products.
"This was our first internal tuition fund and we were excited to award five scholarships to the children of Vista Metals employees," said Andy Primack, President of Vista Metals. "Each recipient demonstrated good academic standards and they truly are the highest caliber."
Special guest included Janice Rutherford, San Bernardino County Second District Supervisor, who also congratulated the recipients and presented them with a special certificate.
Highest Caliber recipients and their selected college
1. Melissa Garcia – UC Riverside
2. Kassandra Zavala – CSU Fullerton
3. Mario Ramirez – Mt. San Antonio College
4. Robert Elizarraras – CSU San Bernardino
5. Matthew Gussiaas – Shenandoah University
Applicants had to demonstrate a personal effort towards or achievement in education, community involvement, extra-curricular activities and goals and aspirations. Winners were selected by an independent panel of judges representing Vista Metals.
The Higher Education Tuition Fund is one of seven You FIRST program areas at Vista Metals. The internal program rewards and keeps employees first. It consists of seven focus areas designed to show employee recognition, highlight achievements, provide health and fitness education and encourage teamwork.
You FIRST Program Areas:
1. College Tuition Fund
2. Community Garden
3. Healthy You
4. Co-Employee of the Month (Pay It Forward) "Couldn't Do It Without YOU First"
5. Manager/Lead of the Quarter
6. Mentor Program for New Hires
7. Help Others Program "Looking Out for YOU First"
About Vista Metals Corp.
Vista Metals Corp. is the largest global independent producer of specialty aluminum products. They are located in Fontana, California. Along with its tooling and mold plate products, Vista Metals Corp. produces aluminum billet for the hard and soft alloy extrusion industry, cast and scalped billet for the forging industry and slab for rolling applications. For more information, visit http://www.VistaMetals.com.