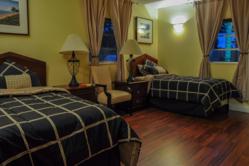 If you suffer from alcoholism, contact a detox center such as Harbor Village and get on the road to a better life," said Robert Niznik, Harbor Village CEO.
Miami, FL (PRWEB) June 26, 2013
In an article written for the Washington Post(6/13), Army Lieutenant Colonel Elizabeth Robbins stated that there is a definite correlation between the alcohol abuse and cases of sexual assault found in the military. She states, "Nearly all recent high profile cases of military sexual assault involved alcohol in some form. We must be honest with ourselves: Alcohol abuse strips away the brotherhood and incapacitates the better angels of human nature. After a few drinks with the guys, official lectures on mutual respect are forgotten by otherwise decent people."
Alcohol abuse is found throughout all industries and occupations. It does not discriminate whether one is a teacher, carpenter, attorney or a respected member of the military. Anyone can fall victim to this disease. Those experiencing the detrimental effects of this dependency should seek the care of a professional detox center such as Harbor Village.
At Harbor Village, clients can check in anonymously and begin an individualized program designed for their specific issue. The facility addresses both alcohol and drugs in their beautiful South Florida setting. A 24/7 medically supervised detox center, Harbor Village allows each client to experience detoxification in a luxury, state-of-the art environment. Clients are welcomed with upscale accommodations including an attractively furnished suite complete with satellite television, 30,000 square feet of outdoor lounge area, spa, salon, massage and acupuncture services, nutritious, gourmet dining and the personalized support of a caring, attentive staff.
Robbins further states how important it is for the military to address this issue. She adds, "Just as colleges and universities have taken steps to address student alcohol abuse, our military brass must acknowledge the second- and third-order effects that devastate individual and unit military effectiveness. Discussion of this issue should be frank, and it must be made plain that such excess has no place in our ranks."
While the army's recent battles with this problem have been making national headlines, it is important to remind everyone that an addiction to alcohol can quickly spiral out of control and cost a problem drinker their family, friends, career and even their life.
"Not only does alcoholism cause many health-related issues, it can also bring its share of legal problems including affecting both your criminal and driving records. If you suffer from this dependency, contact a detox center such as Harbor Village and get on the road to a better life," said Robert Niznik, Harbor Village CEO.
For more information, visit: http://harborvillageflorida.com/ 
or call the 24/7 hotline 1-855-338-6900
Media Contact: 
Robert Niznik 
Harbor Village 
Miami, FL 
305-999-5728 
robert(at)harborvillageflorida(dot)com