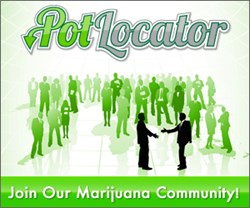 "By featuring Boulder's first medical marijuana dispensary, PotLocator.com is providing Colorado patients with the finest in alternative medicine. After garnering renowned recognition within the industry, PotLocator is excited to work with this facility."
(PRWEB) June 18, 2013
Since early 2009, Helping Hands Herbals has been providing medical marijuana patients in the state of Colorado with the utmost compassion and the most professional services. Due to providing the state with such an admirable service, the company has now become a subscribed client to the PotLocator network. Patients in and around the Boulder area have been blessed with a facility that is comprised of the most compassionate individuals working behind the scene at Helping Hands Herbal. This location serves as a brick-and-mortar facility that is responsible for providing thousands upon thousands of patients with the finest in alternative medicine and alternative treatment options. At Helping Hands Herbals, patients are not only purchasing medicine, patients are receiving a level of education about cannabis that was not presently acknowledged before.
Helping Hands Herbal is a medical marijuana brick-and-mortar collective that has been providing patients in the Boulder, Colorado region with alternative medicine since the dawn of the state's medical marijuana program. Recognized as the first medical marijuana dispensary in the city of Boulder, Helping Hands Herbals is a premier dispensary that is renowned for offering organic in-soil medicine. It is only fitting that this location provides the most organic and natural medicine to patients, as the city of Boulder remains one of the nation's most health-conscious communities. The last thing that Helping Hands Herbals wants for patients is for an individual to get their hands on medicine that has not been properly cultivated and has chemicals upon it. For this reason, this location is 100% all-natural and completely organic.
This location has become renowned across the state of Colorado for boasting one of the most solidified and diverse menus of medicine that is humanly possible. From carrying fifteen to twenty-two premier and organic medical marijuana strains on-hand at all times, various types of edibles, tinctures, bubble hash and shatter, Helping Hands Herbal has become a go-to destination for patients seeking the finest medicine. Another unique feature boasted through this facility is that all medicine is grown in-house, which means 100% of medicine that you will find at this location has been cultivated right in Boulder. For this reason, the experts at Helping Hands Herbals are solely responsible for providing medicine that has been masterly-crafted and suited for content quality control.
Located in Boulder, Colorado, the city is considered a cultural experience and one of the last examples of a modern-day Eden. It is very easy to see why the city of Boulder is considered an intriguing town, as it offers a variety of accommodations for visitors. Mountains, trails, rivers, plains and the great outdoors are just a couple of features that deem Boulder a truly organic city. See the sights, feel the nature, taste the food, hear the sounds and become engulfed in all that Boulder has to offer.
Despite Helping Hands Herbals paying homage to the great city of Boulder, that does not mean that the exceptional and compassionate services provided by this location are solely meant for the Centennial State's most popular city. Patients from as far as three hours have come to this location because of the amazing staff, unrivaled selection and overall friendliness of this location. Helping Hands Herbals extends the finest services in alternative medicine to patients in and around the surrounding areas of Fort Collins, Colorado Springs, Denver and the entire Front Range.