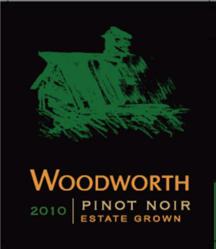 We believe that over the next 5-10 years, De Luz will emerge as a unique and important wine producing area
De Luz, California (PRWEB) June 19, 2013
For the third year in a row, Woodworth Vineyards Pinot Noir is winning awards normally reserved for the wineries of the more famous Pinot regions of Northern California and Oregon. Their 2008 Pinot Noir shocked the Pinot world in 2011 when it won a Gold Medal and came in third at the 9th Annual Pinot Summit, achieving scores of 93 and 94 from judges who tasted more than 360 competing wines from the United States, France, Italy, Australia and New Zealand. The 2009 continued the tradition with a Silver Medal at the 10th Annual Pinot Summit and went on to win numerous Gold and 'Best of Class' awards in other competitions.
The newly released Woodworth Vineyards 2010 Pinot Noir not only won a Gold Medal at the 11th Annual Pinot Summit, but also a Gold at the San Diego International Wine Competition and just received a Gold Medal and 'Best of Class' award at the prestigious Los Angeles International Wine Competition, achieving the highest score of 95.
What makes this so unusual is that Woodworth Vineyards is located in De Luz, California which is part of the Temecula Valley AVA in Southern California. Southern California has never been known as a Pinot Noir region because it's just too warm. This is why the Woodworth success has been so startling. The De Luz area, located in the hills west of Temecula, has a unique micro climate with strong coastal influences producing cool, foggy nights and mornings and warm sunny days.
De Luz is an historic agricultural area dominated by avocado and citrus groves. With the success of Woodworth, small vineyards are beginning to be developed throughout De Luz. 'We are generally 7-10 degrees cooler in the summer and 5-7 degrees warmer in the winter than Temecula wine country', says Marlene Woodworth co-owner of Woodworth Vineyards. 'We believe that over the next 5-10 years, De Luz will emerge as a unique and important wine producing area'.
Woodworth Vineyards is a boutique winery currently producing less than 1000 cases per year, with the capability of producing about 3000 cases. Besides Pinot Noir, they also make award winning Merlot, Syrah, and Chardonnay, along with some very popular (and medal winning) blends named after their dogs. These include 'Wild Bandit' (a Pinot/Syrah), 'Sidekick' (Merlot/Syrah), 'Black Dog' (Cabernet/Merlot/Syrah), 'Sweet Sophie' (Chardonnay/Muscat) and 'Golden Maggie', a Rose of Pinot Noir. They will be releasing 'Luna de Luz' their first Blanc de Noir later this year. You can find out more information about Woodworth Vineyards and their wines at http://www.WoodworthWine.com. Check out a video of the Woodworth Story to see the history.
Woodworth Vineyards wines are available at Crush & Brew in Old Town Temecula and at Chris Kern's Forgotten Grapes in Riverside. You can also find them online at http://www.WoodworthWine.com.