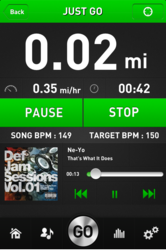 GoTunes is a unique fitness app that combines social features, streaming music from Spotify, and performance tracking
Los Angeles, California (PRWEB) June 19, 2013
GoTunes Inc. officially announced today the release of GoTunes for iPhone, a free music and fitness app for creating and discovering customized streaming workout playlists. With GoTunes, you can discover new Spotify songs that match your exercise pace, see what your friends are listening to when they exercise, and add songs to your favorite playlists. You can also check out featured playlists, albums, and songs curated by the GoTunes staff.
Get the free app at: http://gotun.es
GoTunes is a unique fitness app for discovering running music and cycling music that works best for you. The app utilizes technology from Spotify and EchoNest for identifying and playing the music best suited to your ideal workout pace (Spotify Premium account required).
GoTunes combines social features, streaming music, and performance tracking. GoTunes takes a new approach to merging fitness with music. Other apps help you share general purpose playlists, but they don't address the specific challenges involved in finding the best tunes for exercise. There are apps that choose music based on tempo, but they're limited to using the downloaded songs on your phone, or "radio" channels you can't control. GoTunes has none of these limitations, and it allows you to choose and discover streaming music from the millions of songs in Spotify's library.
GoTunes algorithms are fine-tuned to choose the best Spotify songs for exercise, but if you'd like more of a human touch, GoTunes users can follow each other using a format that is similar to Twitter. As you follow other users, you'll be able to find out what people around the globe are listening to when they exercise.
GoTunes also provides a unique feature called "Just GO". With this feature, users can simply set their target Beats Per Minute, or input the distance they'd like to cover in a desired timeframe. GoTunes will then provide a continuous stream of music with a tempo that will keep you moving all the way through your workout. At the end of a Just GO session, you can choose to save the played songs to a playlist, and share that playlist with the GoTunes community.
In the coming months, GoTunes will add more features including route sharing, interval training with music, and integration with popular fitness platforms like RunKeeper and MapMyFitness.
GoTunes is compatible with iPhone 5, iPhone 4S, and iPhone 4. The app is currently available in the United States, United Kingdom, Australia, Sweden, and Singapore. A wider global release is scheduled for late summer 2013.