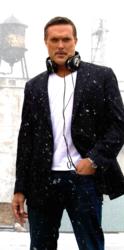 "I believe (We Are) Nexus offers our listeners well crafted pieces with plenty of musicality. It's great to infuse my past in world music with today's EDM sound!" - Gunn
Chicago, IL (PRWEB) June 20, 2013
With the release date fast approaching of their debut single, a cover of Sonique's 1998 hit "It Feels So Good," (We Are) Nexus' producer and composer Nick Gunn is striving to take the trance music world by storm with his unique combination of world music knowledge and modern trance stylings. But just who is Nick Gunn?
Having studied at Great Britain's prestigious Royal Music Academy for flute as a child, Gunn has been involved in music since his beginning. It was after his move to Los Angeles through his junior high and high school years playing in his schools' wind ensembles and percussion lines that he started to develop his distinctive musical approach.
Between finishing school and forming (We Are) Nexus, Gunn enjoyed a long and successful career as a world music artist under the name Nicholas Gunn.
When deciding to make his first album, he knew he had to learn how to produce and engineer. "I used to drop in at Westlake Studios completely unannounced and look over the producers' and engineers' shoulders. They were probably wondering who the hell this kid was, but most were amazing and let me sit in and learn."
In 1992, he self-released his debut solo album "Afternoon in Sedona." Re-released in 1993 on record label Real Music, "Afternoon in Sedona" became an instant best seller at national retail chains such as The Nature Company and Natural Wonders.
Gunn later went on to record and produce a total of fourteen albums over the next twenty years, becoming a platinum selling artist twice and charting for fifty-five consecutive weeks on the Billboard New Age charts with his albums "The Sacred Fire," "The Music of the Grand Canyon," and "Thirty-One Nights."
After the release of his fifth album, Gunn decided to expand his portfolio and started his own label, Gemini Sun Records, which was distributed exclusively by Warner Music Group/ADA, and represented over 75 like minded world music artists.
So why the switch to EDM? "Where do you go after releasing 14 albums in world music?" questions Gunn. "I have always been a huge fan of EDM and I got to the point in my career where I wanted to jump in without wasting any more time. The music Nexus is making is like an amped up version of my past career, just way cooler!"
Alongside Gunn's inspired production, vocalist and collaborator Carmen Rainier helps drive (We Are) Nexus' point home with her delivery of smart, stimulating, and provocative vocals, enticing trance fans worldwide.
"Carmen is as smart as she sounds," says Gunn. "Aside from the lyrics and vocals, she runs the entire business end of what we do, including overseeing the publishing and licensing of my previously published works."
With Gunn and Rainier at the helm of (We Are) Nexus, the trance world can expect to look out for great things. "I believe (We Are) Nexus offers our listeners well crafted pieces with plenty of musicality. It's great to infuse my past in world music with today's EDM sound!" says Gunn.
(We Are) Nexus' debut EP featuring their cover of Sonique's 1998 trance hit "It Feels So Good" and its accompanying remixes will be available through Shotgunn Productions on August 6th, 2013 from all major digital and on-line stores wherever music is sold.