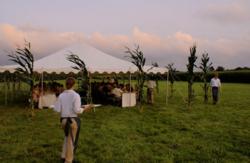 The Max Chef to Farm series was named one of the top five dinners in the country by Fodor'sTravel. This year dinners at Graywall Farms will include live music and dancing under the stars.
Lebanon, CT (PRWEB) June 18, 2013
The lush open fields surrounding Graywall Farms, a member farm of The Farmer's Cow, offers the perfect setting to enjoy world class cuisine featuring the freshest local foods and produce. Graywall Farms and the Chesmer family are once again proud to partner with Max Restaurant Group to present two Chef to Farm dinners: "Full Moon Disco" on Friday July 19th and "Bluegrass, Beers & BBQ" on Friday August 16th.
Both evenings commence at 6:30pm and offer a unique dining experience that brings together the pastoral beauty of Graywall Farms with the finest ingredients from the daily harvest. Dinner begins with a beverage reception with the guest winemaker and/or brewer, followed by a tour of the farm to see the fields and learn about life on a working dairy farm, Connecticut agriculture and The Farmer's Cow. Tours conclude in a tented area where tables dressed in white linen and candlelight offer a view of the al fresco kitchen. Each dinner is cooked from scratch and showcases the best freshly harvested local produce. The specific menu for the evening will vary depending on the day's harvest and the inspiration of the Chef.
The Farmer's Cow and Graywall Farms are pleased to host these great events. To make the experience even more memorable, guests are invited to stay after dinner for dancing and moonlight wagon rides through the fields. Skyway Band, a six-piece R&B dance band, will perform after dinner at "Full Moon Disco" from 9-11pm. The band for "Bluegrass, Beers & BBQ" will soon be announced.
The Max Chef to Farm series was named one of the five top farm dinners in the country by Fodor's Travel. Last year, more than 100 people attended the dinner hosted at Graywall Farms.
"Bluegrass, Beers & BBQ was one of our most popular and successful dinners of the 2012 season," said Chef Scott Miller. "We are thrilled to partner with The Farmer's Cow to offer not just one but two spectacular dinners this year."
Graywall Farms is a family-owned working dairy farm. Guests coming to enjoy delicious food will be able to meet the cows and the farmers of The Farmer's Cow. A portion of the proceeds from the events at Graywall Farms will benefit the Connecticut Farmland Trust (CFT), a statewide conservation organization dedicated solely to permanently protecting Connecticut's farmland.
"We are excited to host these events," says Robin Chesmer, owner of Graywall Farms and Managing Member of The Farmer's Cow, "It is neat to bring a first quality restaurant experience out into our fields surrounded by growing crops and dairy barns. Guests really enjoy the opportunity to see where their food comes from. Plus, it supports The Farmer's Cow mission to promote and preserve agriculture in Connecticut."
"Every year, Connecticut loses more farmland than it is able to save," says Jim Gooch, Executive Director of Connecticut Farmland Trust. "In response to that threat, CFT has saved 26 farms and over 2,100 acres of land to date. We are so grateful to The Farmer's Cow for all they do to help us in our work, and to MAX for seeing the value in that partnership. Together, we're making real progress – and that means more and better locally grown food for the future."
Seating is limited. Tickets are $115 per person for each event, both of which are sure to be highlights of the summer season. For reservations and information, visit http://www.maxcheftofarm.com or call 860.522.9806 ext. 18. For more information call The Farmer's Cow at (866) 355‐COWS, or email farmers(at)thefarmerscow(dot)com and follow @TheFarmersCow.