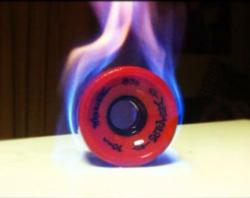 The Diablos are fast, smooth sliding wheel that a rider can count on.
(PRWEB) June 19, 2013
WheelRZ is a company that was started by riders who wanted to develop a line of longboard wheels that delivered a superior ride that didn't cost a fortune. WheelRZ Owner and Rider Ricky Wheeler said, "We wanted to create a line of wheels that could help any level longboarder progress and could stand up to the abuse an advanced rider inflicted on them." Having a collective 40 years of riding experience, and years of rider feedback, WheelRZ decided what was most important in a longboard wheel: they need to be fast, smooth, predictable, and durable. They spent a lot of time researching and testing many different formulas. After going through the hundreds of test wheels they developed with different shapes and urethane formulas, they found the perfect combinations and created a line of longboard wheels that deliver an amazing ride at affordable prices.
The most popular wheel since its release has been their freeride and slide wheel, the Diablos. Sliding and freeriding are the most popular riding disciplines in longboarding today. It is a type of riding that merges power slides with creativity and style. It is similar to snowboarding's slopestyle or skateboarding's street skating. WheelRZ spared no expense in the designing of the Diablos. They wanted a slide/freeeride wheel that didn't easily ice out in corners, delivered buttery slides, and remained predictable throughout its life, and WheelRZ hit the mark with the Diablos.
The Diablos measure 70X45mm and come in two durometers/colors: 80a/red or 85a/orange. The wheels are round lipped which makes them easier to break into slides with. The centerset hub makes the Diablos flippable so the rider can prolong the life of their wheels. WheelRZ used their urethane formula they are calling 'Wicked Thane' for the Diablos. 'Wicked Thane' is designed to have a lot of acceleration so a rider can get up to sliding speed quicker which means more slides per run, and it is also designed to remain predictable to the core. The WheelRZ Diablos burn up the pavement and leave some sweet looking reddish-pink thane lines behind. They are very fast wheels and both durometers remain predictable to the core making them perfect for freeriding. "The Diablos are fast, smooth sliding wheels that a rider can count on," says WheelRZ Owner/Rider Rob Wheeler.
WheelRZ popularity is growing quickly on the East Coast since they have released their product in September 2012. They are an innovative company with many more wheels going through its rigorous testing phase. WheelRZ does everything they can to help promote the progression of longboarding, and has sponsored many longboarding events and have helped make many happen so kids have the opportunity to get out there and ride. WheelRZ Owner/Rider Ricky Wheeler stated, "We are a company that thrives on progression in longboarding, and we are so passionate about boardriding that we strive to create products that will help longboarding continue it's forward progression."
WheelRZ along with Faceplant Boardriders will be putting on two more longboarding events in the Mid-Atlantic Region this year. 'Rip the El Wood' will be taking place on September 7th which will have a gnarly slide course and a timed downhill race. You can see more about the 'Rip the El Wood' on the Event's Facebook Page at https://www.facebook.com/events/145433505636967/?fref=ts. In November they are having their 2nd Annual "Skate the Cape Shred Festival" which is set to be a 2 day Longboarding Festival with 4-5 different longboarding events. These events will surely be a don't miss, so save the date.
Watch WheelRZ Diablos: An Introduction at http://www.youtube.com/watch?v=uLa_aAfhOko&list=UUeGEnKtNUMaZoc69e5WgpmQ&index=12.