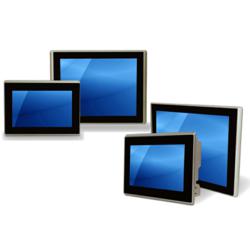 Chino, CA (PRWEB) June 19, 2013
Acnodes Corporation's new touch panel PC, PC9XX0, is now available with 7, 8, 12, or 15 inches LCD screens with resistive or capacitive touch screen options. PC9XX0 is powered by low power consumption Atom N2600 1.6GHz processor with NM10 chipset. PC9XX0 includes one on board DDR3 SO-DIMM socket for a maximum of 2GB system memory and one 2.5 in. SATA Hard Disk Drive (half size for PC9070 and 9080) along with dual Ethernet, two or four COM ports, two USB ports, one internal half size mini PCI-E slot, an audio (Line-out) port, and an optional HDMI port to accommodate a wide range of connectivity requirements. It supports standard operating systems such as Windows 7/ XP Embedded or Professional, and Windows CE6.0 Embedded.
PC9XX0 equipped with solid aluminum die-casting chassis and adopted IP65 flat front surface industrial design, which meets the toughest industrial and environmental standards. The touch screen supports anti-scratch design up to 7H to ensure operation stability. In addition to panel mounting, standard VESA 75mm spaced mounting holes are available on the rear for easy mounting to any fixture or wall. The system supports wide voltage power input from 9V to 32VDC to meet the requirements of unstable electricity environments. Besides, it can operate in wide range temperature environments from 32°F to 122°F (0°C to +50°C).
Additional information on PC9XX0 series, please visit:
PC9070 product page for 7 inch, PC9080 product page for 8 inch, PC9120 product page for 12 inch, or PC9150 product page for 15 inch.
For full series of Panel PC products, please visit our Panel PC product page.
Our product line configurations are illustrated on our web site at Acnodes.com. However, most of the commercial and industrial computers are custom built to customer's exact requirements. Contact us via e-mail: info(at)acnodes(dot)com or telephone (1-909-597-7588) for more information.
About Acnodes
Acnodes manufactures, designs, and markets industrial computers and display solutions for diverse industries ranging from automation to military. We have an array of technological innovations in the area of rack mount servers, embedded computers, Panel PC's and rugged monitors that create simpler and more valuable products to the customers. We work closely with our clients to customize computer products to meet their required projects and challenges. Acnodes strives to explore new technologies to better improve life and work.
Company Information:
Name: Acnodes Corporation
Address: 14628 Central Ave.
City: Chino
State: CA
Zip: 91710
Country: US
Phone: 909.597.7588
Fax: 909.597.1939
http://www.acnodes.com