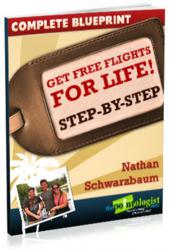 Plainview, NY (PRWEB) June 18, 2013
The average cardholder may have a couple hundred - or a couple thousand - bastard points floating in her rewards accounts. Chances are she doesn't know exactly what they can be worth, or even what to do with them. Nathan Schwarzbaum, a self-admitted points junkie and the founder of online travel loyalty program site Pointrax Rewards, set out to do something about that a year ago, penning Free Flights for Life, a complete guide to earning and redeeming points and miles.
Schwarzbaum puts it this way: "You see, when you join the right rewards programs, they give you a ton of points, because, frankly, they don't expect you to use them. Most people don't. But when you're equipped with my roadmap, you'll finally know how to pull all those rewards points together and get yourself phenomenal travel arrangements."
He practices what he preaches. Over the past 10 years, Nathan has traveled literally around the world with his wife and their two sons, flying everywhere from Venice to Montreal using rewards points from American Express, Capitol One, and other credit card rewards.
Free Flights for Life is a concise summary of what it takes for others to travel at little to no cost with their rewards too. The book walks readers through everything from getting approved for the best credit cards, to earning points and miles, to maximizing redemption value when booking hotels and flights. Designed as an HTML guide, the digital edition of the book also contains relevant links to all the application forms and other resources for quick and easy access.
As committed as Nathan is to helping people travel for free, he is offering exclusive email support with the purchase of Free Flights for Life.
For more info, or to purchase Free Flights for Life, click here.