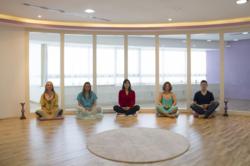 These experiences need to be felt to convert even the most rigid of non-believers.
Dubai (PRWEB) June 18, 2013
Spiritual healing, a practice which was once considered as a feel good mechanism by skeptics, is now gaining considerable popularity as individuals look within themselves to explore the origins of their existence.
Dubai's holistic well-being center, Illuminations, is now offering spiritual healing services to fulfill a desire for individuals to look within and beyond for answers to life's perplexing questions.
Spiritual Healing is a metaphysical (energies that cannot be weighed, measured, calculated and quantified) approach by which a facilitator taps into a reservoir of unconditional love, light and wisdom residing within our cosmic or universal consciousness. Spiritual Healing involves evoking the energy of a divine presence, and then utilizing different methods to access this energy and channelize it for the purpose of healing any issue at the physical, mental, emotional and spiritual levels.
When logic and ration fail to resolve the challenging situations in life, individuals are encouraged to go beyond our five senses and search for the answers within. People are now beginning to ask questions such as who am i? Why Am I here? What is the purpose of my life?
Services such as workshops, meditations and spiritual healing therapies at Illuminations, provide an experience for individuals to tap into the power of universal intelligence to access their inherent wisdom and intuition. As a result, they remain open to receiving the appropriate guidance they require to move forward with fulfillment and peace.
"These experiences need to be felt to convert even the most rigid of non-believers," says Soniyaa Kiran Punjabi of Illuminations. "Stories of people experiencing near death experiences, miracles and divine intervention, are no longer few and far between."
Spiritual healing services offered at Illuminations include:
Spiritual Response Therapy (SRT)
SRT is a powerful spiritual method of healing that works with the muscle response to bypass the limited conscious capacity, to connect with the subconscious guidance within. Through a set of charts and a pendulum, students will learn how to clear any energy blockages, imbalances and disharmony in order to resolve any situation in life.
Spiritual Re-Constructuring (SPR)
SPR is an excellent method to resolve physical symptoms and break down in the body. Spiritual Restructuring is a very powerful and dynamically evolving healing system, which can free the body from energy, which has created problems and contributed to mental, emotional and physical trauma.
The human body contains cell memories of pain and suffering from past life illnesses, injuries and deaths. However, it also holds all the wisdom, light and understanding of the Universe with its own innate intelligence and knowledge of what is needed in order to heal itself. SPR is a way of working with the body to free discordant energy, and as a result accelerates the body's wisdom to heal itself.
Family Constellations
When born into a family, individuals inherit not only their biological genes, but also their belief systems and behavior patterns. The family is an energy field within which one is held, each in their own unique position, from the time they are born. Family constellations offer students the chance to understand these patterns at the deepest level. They enable each to bring their patterns to resolution, and thus find peace and happiness.
Angel Therapy & Guidance Through Cards
Angel Therapy is a non-denominational spiritual healing method that involves working with a person's guardian angels and archangels, to heal and harmonize every aspect of life. Angel Therapy also helps individuals to more clearly receive Divine Guidance from the Creator and angels. Everyone has guardian angels, and these angels perform God's will of peace for us all. When one open themselves to hear their angels' messages, every aspect of their life becomes more peaceful.
Psychic Channeling & Clairvoyance Reading & Healing
A spiritual psychic reading involves the healer to channel and connect to the energies of the ascended masters to answer all the queries, doubts and any question that one wishes to ask about themselves or their family members (which they have prepared ahead of time). They will guide the student and show directions that one should take in future. Sessions help gain profound insight and clarity in one's life.
Clairvoyance readings involves reviewing and releasing unhelpful patterns from a past life and connect with some of the Angels and Spirit Guides to hear what specific information they may have for each person. The healer is able to bring this information through for you with great clarity, describing all details of what she sees, hears and feels. It is also possible to receive guidance about your current life situation and higher perspectives on creating a better future for yourself, from a place of increased personal empowerment
To learn more about when these therapies are available, please send your full name, mobile and email ID to info(at)illuminationsworld(dot)com or call 04 448 7043.
Illuminations is a Dubai-based holistic well-being center located in Jumeirah Lake Towers. The center was founded by Soniyaa Kiran Punjabi, with the intent of inspiring individuals towards a journey of self-discovery as a key to lasting happiness. The center offers a variety of services based on a holistic approach to self-development with the intention to provide a deeper insight into the mind-body-energy connection influencing the experience of life.