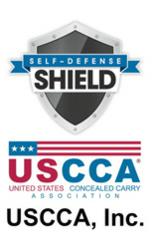 This is an important and potentially life-changing service for responsibly armed, law-abiding Americans
Jackson, WI (PRWEB) June 19, 2013
Gun rights are a hot topic throughout the nation these days, and this has put many gun owners on the edge of their seat. Many gun rights advocates believe that one unfortunate event which may increase in the near future is the wrongful prosecution of law-abiding citizens who justifiably use their legally owned guns to defend themselves from attackers or home invasions. But Delta Defense LLC, the parent company of the U. S. Concealed Carry Association (USCCA), has calmed the fears of its members with their Self-Defense Shield insurance benefit.
The USCCA has a large base of paid members across the nation, and among the many benefits the members receive, Self-Defense Shield is arguably the most valuable. How it works is simple -- if a paying member of the USCCA were to have charges pressed against them in civil or criminal court after they had justifiably and legally used their firearm to defend themselves, their court and legal fees would be covered by the USCCA. The breakdown is simple:

Up to $500,000 in Civil Suit Defense and Judgment Protection
Up to $100,000 in Criminal Defense Reimbursement
Up to $10,000 in immediate cash for bail bond
Up to $10,000 in immediate cash to hire an attorney
Up to $500 per day to compensate you for lost wages
Access to USCCA lawyers based in all 50 states
"This is an important and potentially life-changing service for responsibly armed, law-abiding Americans," says Tim Schmidt, President of the USCCA and CEO of Delta Defense, LLC. "While I wish this sort of protection wasn't necessary for the millions of law-abiding gun owners out there, the fact remains that lawyers and scumbags across the nation are looking to vilify good people who use guns as life-saving tools to protect their families. The way I see it, the Self-Defense Shield benefit is a lot like a gun: it's better to have it and not need it, than need it and not have it."
And it's no wonder that gun owners from every corner of the nation are becoming USCCA members. Every year in the news there are stories of normal citizens with no previous criminal background being prosecuted for defending themselves or their loved ones with a gun.
When asked why people are so drawn to this new and improved membership benefit, Schmidt said, "The USCCA Self-Defense Shield gives good, law-abiding people peace of mind. Now, our members don't have to think about defending their innocence in court and going bankrupt in the process, or worse. More than anything, the Shield benefit exists to keep families together and out of financial ruin."
For more information about the United States Concealed Carry Association, visit http://www.USCCA.com. To learn more about the Self-Defense Shield member benefit offered by the USCCA, click here.
About Delta Defense, LLC:
Delta Defense LLC, founded in 2004, is committed to supporting and educating responsible Americans who carry concealed. It produces a print magazine, an online membership site, a private members-only concealed carry forum, a rapidly growing facebook fan page, a 100% free e-publication called the Concealed Carry Report, and a nationally syndicated radio program—Armed American Radio.