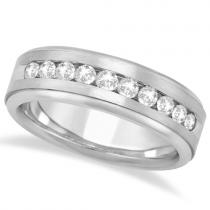 New York, New York (PRWEB) June 19, 2013
Palladium is all the rage when it comes to fine jewelry, especially for men's wedding bands, and women's bridal set applications.
Why the rush on Palladium? This precious metal is a member of the platinum group of metals and has many of the same qualities as platinum at a significantly lower cost. Palladium's bright white color never dulls, it possess a high level of purity, and this metal is hypoallergenic and resists scratching or tarnishing. Palladium is the 'Now' white metal that lasts forever.
An Allurez spokesperson said of Palladium, "Our customers are looking for the very best jewelry products at the very best prices. In an effort to help everyone get the fashion look and durability they insist upon, we turned to palladium, an excellent choice for men's and women's jewelry, especially when it comes to ladies engagement rings and men's wedding bands. In addition to its reduced costs, palladium is much lighter than its sister metal, platinum. It is also more malleable, so our jewelers can craft it into much lighter, more intricate jewelry designs."
Investors are taking a good look at palladium's value vs. cost, especially when considering the recent upswing in the price of gold. In addition, thanks to its many applications including its use in catalytic converters, medicine, fuel cells, dentistry and electronics, palladium's demand is increasing steadily.
The Allurez spokesperson continued, "The value of palladium is more than financial, though that does play an important part for our customers. Through our extensive consumer feedback, we have discovered that our discerning consumers love palladium for its durability, lighter weight, flexibility and hypoallergenic properties."
Based in New-York, Allurez is an established leader in the online jewelry retail business. They offer a wide variety of high-end products at affordable prices, including a complete line of palladium jewelry. They have their own designer collection and release new lines of products on a weekly basis. For more information, visit Allurez.com
Sources Include:
http://www.ehow.com/list_6002115_palladium-jewelry.html