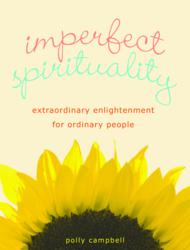 (PRWEB) June 18, 2013
Polly Campbell often posts tips and resources on her website for better living, such as a recent one on How to Not Take Everything Personally. Now her guidance is on Huffington Post's GPS for the Soul with her article "5 Things to Make a Better Day."
Imperfect Spirituality:
Extraordinary Enlightenment for Ordinary People
Polly Campbell
Pulling a raisin out of a two-year-old's nose probably wasn't on Buddha's path to enlightenment, but it was an aha! moment for author Polly Campbell. In Imperfect Spirituality, Campbell shows readers how to integrate those everyday moments with traditional spiritual techniques to increase their personal growth and well-being. Imperfect Spirituality is filled with practical tips and dozens of examples that will encourage readers to amp up their optimism, let go of worry, and embrace their authentic self to offer their true gifts to the world.
Polly Campbell is a writer and speaker who specializes in personal development and spiritual topics. A blogger at ImperfectSpirituality.com and PsychologyToday.com, she teaches on the Daily Om as well. For more than two decades, Polly has studied and applied the techniques she writes and speaks about to her own life.