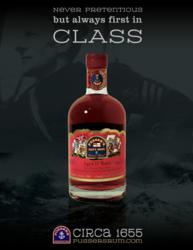 Named one of the top 10 Premium Rums of the World by Forbes Magazine
Charleston, S.C. (PRWEB) June 19, 2013
PUSSER'S 15 YEAR OLD RUM, the rare, aged version of the rich-flavored, original Admiralty rum dating back to 1655, is available in larger quantities this month in both American and international liquor stores, hotels, restaurants and bars.
Coming on the heels of several recent double gold medal awards (NYC and London) coupled with strong demand for nobler, super premium spirits and after-dinner beverages, PUSSER'S wooden pot-stilled navy rum is going to be made available in larger quantities to its American and international distributors. "Many consumers first taste rum through cocktails and fruit drinks like the daiquiri or the Mojito," says a spokesperson for the multiple award-winning PUSSER'S rum, "but soon after they learn to appreciate dark rum as an exquisite, sipping drink whose flavor, nobility and smoothness remain unmatched by other after-dinner beverages."
PUSSER'S RUM LTD (http://www.PussersRUM.com) is currently in the process of establishing the storied beverage as a powerful adversary to single malt scotches and other after-dinner drinks preferred by the discerning consumer. Moreover, cigar smokers, and cigar bar owners, are discovering the unique relationship between the two products. "When you think about it, rum and cigars are complementary, as both are products of the same tropical, humid area, so it's natural to acknowledge the affinity one has for the other".
For more information on the company's mission and current offer, please visit http://www.pussersrum.com/aged-15-year/.
Awards
Double Gold Winner, The Spirits Business, Rum Masters 2013
Double Gold Winner, The Fifty Best, New York 2012
Gold Medal Winner, IWSC International Wine and Spirits Competition, 2011
Gold Winner, San Francisco World Spirits Competition 2005
Double Gold Winner, San Francisco World Spirits Competition 2003
Gold Medal Winner, Best Dark Rum, London 2001
Tasting Notes
Burnished copper color. Dense aromas of cooked molasses, chocolate yogurt, burnt sugar, clay, and copper follow through on a round entry to a dry-yet-fruity medium-full body with earthy depth and vibrancy. Finishes with an unusual hint of melon, as well as mocha, black licorice, raw honey, and tobacco wrapper notes. A complex and somewhat mysterious aged rum that speaks of a different time. -- The Beverage Testing Institute
About PUSSER'S
Pusser's Rum is produced in strict accordance with the Admiralty's specifications for rum. Unlike most single malt beverages, Pusser's uses no flavoring agents, being 100% natural. In 2001, Pusser's was awarded the "Gold Medal - World's Premier Dark Rum" at the International Wine & Spirits Festival. In 2003, Pusser's Rum won a "Double Gold Medal" at the San Francisco World Spirits Competition and a Gold Medal at the same festival in 2005. Most recently, Pusser's Rum picked up "Double Gold Medals" in the Rum Masters 2013 Competition.
Pusser's Rum is imported in the US by Shaw-Ross International Importers, Miramar, Florida