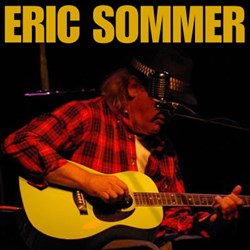 Eric Sommer - Acoustic Guitar Super-Hero!

John Tarpley
Arkansas Times
Ann Arbor, Michigan (PRWEB) June 19, 2013
For Eric Sommer, Summer in Michigan is sun, lakes, boating and outdoor concerts. This summer is no exception.
In Ann Arbor, right downtown in Liberty Plaza, the Summer Music Series heats up on Friday, June 28. This Friday at Noon, Ann Arbor will be treated to one of the most accomplished musicians on the Pop Americana National Tour Circuit.
Eric Sommer is coming to Liberty Plaza in Ann Arbor, MI.
And Mr. Sommer, Pop Americana Artist, will be there for a Friday Lunch time Concert in Liberty Plaza from 12 Noon - 3pm which should bring a lot of joy to a lot of people - guitar players, primarily, and acoustic guitar players especially. Mr. Sommer has played with David Bromberg, Jerry Douglas, John Mayall, John Hammond and Sarah Watkins are just a few. Eric travels with a full complement of 7-8 guitars of all sorts and then cherry picks his way thru the set.
RAINY DAY KARMA is the new record by Eric Sommer and The Solar Flares, and going by all the reviews this is a strong record - pop, folk, rock and acoustic mayhem all rolled-up together, all recorded in Pittsburgh and mastered in Nashville by Jeff Silverman.
Eric started his musical career in the Boston area and has been a regular player on many national tours and showcases. Sommer's influences are as diverse as Eric Clapton, Mozart, Townes Van Zandt, Steve Earle, Jimmy Page, Jeff Beck and The Ramones. Mr. Sommer's current project with power trio "The Solar Flares" shake up Chet Atkins and David Bromberg influences with those of ZZ Top and Elvis Costello - a remarkable mix.
With open tunings, slide guitar, lap-slap tone guitar and a remarkably aggressive fingering style approach, watching Eric Sommer will make you jump out of your seat and holler for joy! There are very few players who have maintained this authentic American style of guitar and Eric Sommer is one of the very best.
Amen.
____________________________________
For Music Samples please visit Eric Sommer online for additional schedules or contact him at eric(at)ericsommer(dot)com or call 202-255-1995. Additionally, you can find Eric Sommer on Facebook, too. RAINY DAY KARMA is also available on iTunes and CDBaby.
Eric Sommer is represented by Clyde is Thinking, and PR programs are managed thru MTG/NY; For more information, promo/appearance requests or to set up an interview, please contact Tom Monihan 202-255-1995.