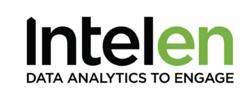 New York, NY (PRWEB) June 17, 2013
Intelen, Inc, the leading building energy efficiency analytics and user engagement company, announces that it will exhibit its cloud analytics platform and products (Building Monitoring and Building InSights) at the 2013 Energy Management Congress (EMC) West, booth #422, in Las Vegas, NV June 19-20.
Intelen's cloud based software facilitates monitoring and analysis of building energy use in real time and uses an engagement platform to engage and educate users to deliver long term reduction in energy use. It also offers a set of tools to create efficiencies in the area of energy audits, planning for building retrofits and providing more advanced analytics.
Intelen will exhibit a new version of its Building InSights platform. The solution combines real-time energy data (2 second intervals and aggregations) with weather conditions, energy bills, audit information, building model and internal human behaviour information to generate predictive "what-if" retrofit scenarios and maximize the energy efficiency potential of the building. Using Measurement and Verification (M&V) methods the system can track and predict savings for each particular scenario and provide a precise ROI estimate.
In the words of Vassilis Nikolopoulos, CEO and co-founder of Intelen, Inc., "Intelen aims to deliver 20% - 40% sustained long term reduction of energy use by creating awareness, changing user behaviour and providing tools to maximize building energy efficiency. We totally change the way we approach energy efficiency."
"We are ready to offer great added-value products and services to the US market, by combining building analytics and real-time use data to increase awareness and apply gaming and social principles to influence human behavior towards a more conscious use of energy," says Mitch Stein, Sales Executive Director.
The Energy Management Congress West (EMC) is the largest energy conference and technology expo held in the U.S. West specifically for business, industrial and institutional energy users. It brings together the top experts in all areas of the field to help you set a clear, optimum path to energy efficiency, facility optimization and sustainability, as well as innovation solutions to improve your ROI. The multi-track conference covers a variety of topics, many specific to the region. More at http://www.energyevent.com.
About Intelen
Intelen, Inc (http://www.intelen.com) is a market leader and innovator in Smart Building Energy Efficiency Analytics for the C&I market. It obtains real time energy use data from buildings (down to 2 second intervals) and provides real-time advanced analytics using a web based interface and cloud-based algorithms. Intelen uses proprietary technology to connect to buildings and is not dependent on the presence or type of utility smart meter installed. It then uses engagement principles to engage users in energy save initiatives and achieve a sustained reduction of energy use of 25-30% on average.