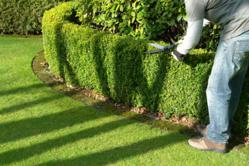 Burbank, CA (PRWEB) June 18, 2013
In many areas of the country the most active months for landscapers are the six months from mid-spring through mid-fall. Whereas most industries have a healthy 12 month business footprint, a landscaper generally has to produce as much revenue as possible in a six month period to keep afloat during the remaining half year. General Liability Insurance is not something they can purchase for six months and then drop for six months. It needs to be affordable so that the small landscaper is insured 365 days. This available Business Insurance will cover the company all year and includes some options that are usually absent in general liability policies like Errors & Omissions (E&O) coverage.
When a landscaper writes a proposal for a potential customer, every feasible scenario and cost is figured into the price. As can happen when dealing with the human element, omissions can inadvertently happen. A customer may sue the landscaper for real or imagined damages. The courts may find there was no negligence on the part of the landscaper, but in the interim hefty legal fees have accumulated. The landscaper is already on a shoestring budget and these legal fees can drain any cash reserves that were accumulated during the good business months. This negative cash flow can ruin the landscaper's business even though the company was never at fault.
Landscapers in the colder climates that experience winter snows often place temporary snow ploughs on the front of company trucks and try to write contracts with home owners and businesses for snow removal during the off-months. Landscaper Business Insurance needs to incorporate this winter time endeavor under the broad Landscaper General Liability insurance so that both businesses are covered under one policy.
USA Business Insurance advises that it is for these instances and others like it the specific Landscaper Business Insurance was developed. The E&O insurance clauses in the Landscaper Insurance can absorb most or all of the legal fees brought on by frivolous and groundless law suits. Certainly it provides the usual and customary general liability clauses that cover damages to a customer's property and job site accidents as an example.
USA Business Insurance continues to bring innovative concepts in general liability insurance for specific niche business in the United States. Each state may have specific requirements and these are always taken into consideration.
For more information about landscaper insurance, go to http://businessinsuranceusa.com/landscaper-insurance