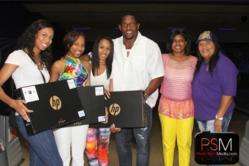 It was very fitting for me to sponsor the youth from Philly, NYC, and the Ray Lewis Kids of Character in hopes that they will learn that their circumstance does not have to dictate their future.
Baltimore, MD (PRWEB) June 18, 2013
Entrepreneur and author Temeko Richardson and two-time Super Bowl Champion Ray Lewis recently presented youth excelling in the Ray's Kids of Character program with laptops, iPads, and various other technology prizes donated through Richardson's company The RLC Group. Richardson and Lewis presented the prizes to 13 deserving youth at the Celebrity Bowling Tournament held during the 9th Annual Ray's Summer Days Weekend on June 13th-15th.
In addition to donating prizes, Richardson provided 32 underprivileged children from the Philly Skills Football Academy (Philadelphia, PA) and Rosedale Jets Football Association (Queens, NY) with an all-expense paid trip to the Summer Days Youth Fitness Clinic hosted by her motivational and fitness movement Run Life's Course on Saturday, June 15th. Newly signed Baltimore Ravens linebacker Brandon Copeland and retired Washington Redskins lineman Tre Johnson appeared with Richardson to offer additional motivation to the participants.
The opportunity to attend the Youth Fitness Clinic was life-changing for many of the members of the Philly Football Skills Academy and Rosedale Jets who mostly came from single family, low-income households. Lewis was on-hand at the Fitness Clinic to engage the children in physical activities that promote movement, wellness, and fitness. Richardson also sent 11 children to the Ray Lewis Defensive Football Camp in Miami on Monday, June 17th.
"It was very fitting for me to sponsor the youth that are part of the Rosedale Jets Football Association, Philadelphia Skills Football Academy, and the Ray Lewis Kids of Character program in hopes they will learn that their circumstance does not have to dictate their future. I believe that they can be leaders of the future and hopefully, this experience helped them believe this too," said Richardson.
In addition to her philanthropy, Temeko Richardson is a highly qualified business expert specializing in technology and business strategy for C-level executives, small businesses, athletes, and entertainers. Her business advice is documented in her recently launched book, Get A Clue – 10 Steps to an Executive IQ.
For additional information about The RLC Group, visit http://www.therlcgroup.com. Please contact Carita Parks at carita(at)parks-pr(dot)com to request Temeko for interviews and speaking engagements.
About Temeko Richardson
Based in New York City and Los Angeles, Temeko Richardson is the owner of The RLC Group and its subsidiary Run Life's Course. She is also the owner of two successful technology companies of which she consults executives and decision-makers on the next generation of increased profitability, customer satisfaction, marketability, and more. A New York native, she gained the title of overachiever early in life graduating from high school in three years, earning a double major in Mathematics and Computer Science from Temple University and minor in Electrical Engineering in three years, Master's Degree in Systems Engineering from the University of Pennsylvania in 1.5 years, and owning successful real estate and technology businesses by 25. Temeko has been featured in Black Enterprise, CEO Blog Nation, Voice of America, and more. Temeko provides expert business tips daily at blog.therlcgroup.com.
She is also available on her website: http://www.therlcgroup.com, on Twitter @temekoruns, and on YouTube at http://www.youtube.com/user/TemekoRichardson.