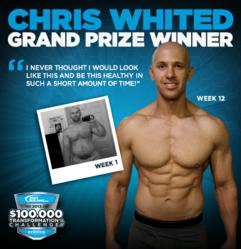 After 12 weeks of dieting and training there's only one thing to say...unbelievable! I never thought I would look like this and be this healthy in such a short amount of time!
Boise, ID (PRWEB) June 18, 2013
This January, Bodybuilding.com – the Internet's most-visited bodybuilding and fitness site and the largest online retailer of nutritional supplements – and Dymatize Nutrition – an industry leader in nutritional supplements – teamed up for the third annual Bodybuilding.com $100,000 Transformation Challenge. This year, the challenge attracted an astonishing 26,500 entrants from all 50 states. And for the first time ever, it was open to residents of over 30 countries around the world.
The Bodybuilding.com $100,000 Challenge presented by Dymatize was designed to challenge and inspire individuals all over the world to live a fit and active lifestyle. "The $100,000 Transformation Challenge was designed to inspire people to get healthy," said Bodybuilding.com CEO and founder, Ryan DeLuca. "We want to empower, facilitate and cultivate positive change. It's our mission to fight obesity and disease, bad habits and poor health. We are here to push people to reach their peak potential," states DeLuca. "For those who don't have a physical support system at home, I encourage them to join a virtual fitness support network like BodySpace to help them stick to their goals."
Chris Whited, the grand prize winner of the $100,000 Transformation Challenge, has inspired millions by losing an astonishing 49 pounds in just 12 short weeks to reveal a chiseled, muscular physique. He is almost unrecognizable from his "before" photo. Chris' journey began by accident: he stumbled across the challenge while surfing the web one night. At first, Chris' motivation was the money. But after four weeks, Chris began to notice a change in his body. With the change in his body came a change in his motivation. "The money was still up there, but something else was even higher – my health. Getting in shape and being healthy wasn't just a plus anymore – it was a must."
As the competition went on, Chris knew he needed to set an example and take ownership and responsibility for every decision in order to achieve his goals. Chris has made it his mission to be a role model and help others reach their health and fitness goals. He has truly been an inspiration to his friends, his family and the BodySpace community. Chris has documented his progress using BodySpace, which helped him stay accountable to others. It was also a place where he could find motivation and keep track of his nutrition regimen and workouts. For more information on Chris Whited's full transformation, please visit his BodySpace page at http://bodyspace.bodybuilding.com/cawhited/.
As the grand prize winner of the Bodybuilding.com $100,000 Transformation Challenge, Chris received a $50,000 cash prize, a one-year gym membership, a $2,000 credit to Bodybuilding.com, a B-Elite workout wardrobe, and a photo/video shoot with Bodybuilding.com. In addition to the prizes, his full story and his workout regimen will be published on Bodybuilding.com.
For more information on the Bodybuilding.com $100,000 Transformation Challenge Powered by Dymatize, please visit http://www.bodybuilding.com/100k.
To learn more about Bodybuilding.com's current transformation challenges, please visit http://www.bodybuilding.com/transform.
About Bodybuilding.com
Based in Meridian, Idaho, Bodybuilding.com is the world's largest online sports nutrition store. The site carries more than 9,900 health and fitness supplements and accessories, shipping to customers in more than 155 countries. Bodybuilding.com helps more than 26 million people every month achieve their health, fitness and appearance goals by offering over 28,000 pages of free information, including more than 20,000 articles and 8,000 videos, expert-designed online training programs, and new content added daily. For more information, please visit http://www.bodybuilding.com.