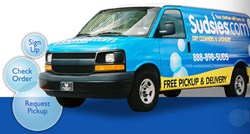 "With Sudsies' hand-care processes, these pieces can transcend into any year, looking just as glamorous as the day they walked the runway," says Jason Loeb, Sudsies CEO.
(PRWEB) June 18, 2013
Between The Rachel Zoe Project and the Dukes of Melrose, viewers too have caught the vintage couture obsession. The vintage trend has evolved from the traditional eclectic boutique to high-end storefronts carrying garments by design legends from all eras. For these nostalgic fashionistas, Sudsies Dry Cleaners & Laundry of Miami, FL specializes in vintage designer label cleaning and care.
"It may exciting to find one of these gems, but also a commitment to caring for it," says Founder and President Jason Loeb. "With Sudsies' hand-care processes, these pieces can transcend into any year, looking just as glamourous as the day they walked the runway."
While the design of these specialty garments may still be fresh, its fabric and materials are far more mature. Furthermore, many vintage pieces pre-date material and care labels. The Sudsies team is adept in fiber and dye identification, thereby able to pinpoint the proper care method and cleaning solutions to avoid any damage. All vintage and couture garments are treated by hand and not machine processes. The dry cleaner also has knowledge of proper hanging and storage techniques to further help maintain the garment's lifespan in the closet.
These items are whisked to the Sudsies facilities via the red carpet treatment: complimentary pick-up and delivery to all locations across Miami-Dade and Broward counties, as well as Weston. Non-permanent South Florida residents or jetsetters can also now entrust their beloved clothing with the recently added Sudsies Express Mail service that cleans and ships garments across the United States.
Vintage designer label care is among Sudsies' many core services, which also include eco-friendly dry cleaning, laundry, alterations, restoration services, bridal gown preservation and on-site home cleaning. High-tech facilities, in-depth expertise and customer service are a part of the Sudsies S.M.I.L.E. mantra to provide friendly, impacting experiences for its clientele. More information about Sudsies and its offerings can be found at http://www.sudsies.com or by phoning 1.888.898.SUDS (7837).
About Sudsies Dry Cleaners & Laundry
Miami Beach-based Sudsies is full-service dry cleaning company dedicated to clean clothes, clean service and a clean environment. An industry pioneer for South Florida home pick-up and delivery services, the Sudsies fleet of bubbly, blue and yellow vans offer prompt service to every nook and corner across the tri-county area, while a team of highly-trained specialists care for garments and customers with a smile. The vast range of services includes ecological dry cleaning and laundry processes, alterations and tailoring, clothing restoration, bridal gown storage or alteration and knowledge of specialty items such as couture garments. At Sudsies, customers look and feel their best, while sister company Rugsies Carpet & Drapery ensures customers live in their best with on-site home or office cleaning for carpets, drapes furniture and other home items. For more information about Sudsies, please call 1.888.898.SUDS (7837) or visit http://www.sudsies.com.