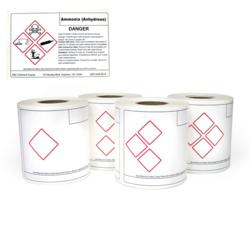 "We are confident in knowing our products being exported are properly marked according to OSHA hazard communication standard when using GHS labels."
Lake Oswego, OR (PRWEB) June 20, 2013
One common thread that all workplaces have is the need to use both commercial and industrial chemicals and other substances in a safe and responsible manner. Many companies today import and export hazardous products and it is critical to efficiently relay information about dangerous substances between nations. OSHA created the first Hazard Communication Standard (HCS) in 1983 to standardize hazard communication information in the U.S. but it was the United Nations that created the Globally Harmonized System of Classification and Labeling of chemicals, commonly known as "GHS." Labeltac.com is now offering GHS die-cut labels as a labeling method for communicating potential hazards of any given chemical.
GHS labels will guarantee companies their products being exported or imported are properly marked with the true global standard for hazard identification. These labels are available in a 1, 2, 3 and 4 diamond configuration. The pre-printed labels are UV, water, chemical, and smear resistant with a strong adhesive back that won't peel or fall off during transit or under extreme environmental conditions. Labels print quickly and easily with both the LabelTac 4 and LabelTac 4 PRO printers, also available through LabelTac.com.
GHS labels will provide safety within the workplace especially for employees that are in contact with hazardous material. Taking precautionary measures to identify possible danger will prevent unnecessary accidents that could cause bodily harm or even death. Educating employees on the label pictograms, hazard statements, and signal words will ensure they are familiar with them, understand how to use them, and access the information effectively. GHS labels and training should be a part of any company's safety program.
An international business owner commented, "We are confident in knowing our products being exported are properly marked according to OSHA hazard communication standard when using GHS labels."
For more information about GHS Die-Cut Labels, please visit LabelTac or call toll-free (866)777-1360 to speak with a professional representative.