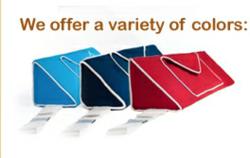 Making the life of parents around the world much easier
Miami, FL (PRWEB) June 18, 2013
Toddler bed rails from Two Hippos, known as the Wall Bumpi, are making the life of parents around the world much easier. Before bed rails were invented, many parents chose to use pillows for protection, but toddlers were easily able to roll over them, moving in all directions, presenting the danger of falling out of bed.
Wall Bumpi's child bed rail comes in different shapes and sizes, making them not only safe, but fun too. When it comes to your toddler's safety, settling for just any toddler bed rail in the market is not an option. Most standard toddler bed rails leave a gap between the mattress and itself, allowing the little hands and feet of toddlers to easily get caught in this gap. The Wall Bumpi was specially designed, and invented, by a mother, who saw the dangers of the conventional bed rail.
The Wall Bumpi is easily secured to the sides of the bed so that it can be used as a side rail, but is also used to protect your toddler from the foot of the bed, and to keep your toddler away from uncomfortable walls. It works by securing the Wall Bumpi to the bed, and tightening it by using the straps, which ensure that there are no gaps left, ensuring your child remains secure as they sleep.
The flexibility and amazing design of the Wall Bumpi made it possible for it to be awarded the HONORS award in the Child Proofing and Safety Category. This award comes from the highly prestigious National Parenting Publications Award (NAPPA). NAPPA is awarded only to those products which demonstrate exceptional quality and ingenuity. Products from around the world compete for the top Honors award, but winning the award is a testament that the Wall Bumpi is one of the safest child bed rails of our time.
The Wall Bumpi is made from Cotton upholstery, fire retardant material and is manufactured locally in Miami, Florida. It is available in attractive colors both for boys and girls, and has a pocket incorporated which can be used to store books, toys, and blankets. The cover has a zipper which means it can be removed with ease and is machine washable.
The Wall Bumpi comes in three different sizes: 28", 38", and 54" long. You can learn more about the Wall Bumpi and other award winning products by Two Hippos on their new interactive website. Two Hippos collaborated with Netrostar, a Miami web design company to create a website which provides all the information you are looking for and is easy to navigate. The online shopping process is made easy with the secure shopping cart.