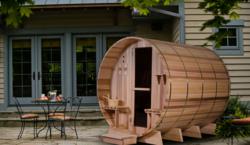 Many sauna firms' products, including our own, are being copied by firms producing cheaper imitations
Renick, WV (PRWEB) June 19, 2013
The benefits, NASS said, depended on how an individual used the sauna but the overall experience for the majority of those who enjoyed the experience tended to be positive health-wise.
Mr Mouw, whose Virgina-based company enjoys an international clientele, said: "I would add to the Society's statement by saying that the type of sauna is also important. For instance, we've recently learned of a number of counterfeit imitations which frankly, can be extremely dangerous particularly in relation to the heating mechanism malfunctioning.
"I would warn any consumers considering a sauna to check the manufacturer and the seller's credentials and to look for a full guarantee in the event of the product failing."
Almost Heaven Saunas has been producing saunas for more than four decades in the Greenbrier Valley of West Virginia. Its iconic handcrafted Home Saunas are shipped around the globe and recognized for their craftsmanship, looks and quality materials.
The company insists the barrel design of their product provides several advantages over square saunas, such as faster heat time, continuous circulation of air, and the ability to be used outdoors. Additionally, the materials used to build the Almost Heaven saunas are top quality western Canadian red cedar, a world class Finnish heating system and stainless steel hardware. Synthetic cradle supports help create a barrier between the ground and the sauna wood.
Mr Mouw added: "As you would imagine there is a lot of diversity in sauna design these days. This is good as it means more of a choice for the consumer but the bigger selection is spoiled by the fact many sauna firms' products, including our own, are being copied by firms producing much cheaper and, of course, inferior imitations.
"It can be difficult to tell when purchasing a sauna on the internet, whether you are buying the genuine article or a fake since the copying of genuine saunas even extends to the branding. Unfortunately this has led to a lot of disappointment from consumers and initially damages the reputation of genuine sauna companies."
Anyone considering purchasing a Barrel Sauna from Almost Heaven Saunas should familiarize themselves with the product before ordering. It's also advisable to compare offerings directly on their website at http://almostheaven.com