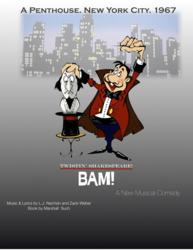 ...there will only be a limited number of the final video and cast recording available.
Dallas-Ft. Worth, Texas (PRWEB) June 18, 2013
Ten years ago Marshall Such created "Radio! The Musical" based on his experiences working in Indianapolis radio. Written with Such's life-long friend and tunesmith, Stephen Taylor, "Radio!" is the story of a struggling Indianapolis radio station fighting a takeover by an evil broadcast group.
Now, Such is in the final days of a Kickstarter fundraising campaign for a new musical, "BAM!," a modern re-telling of Shakespeare's "Much Ado About Nothing." Set in 1967 with modern dialog, the music by Austin (by way of St. Louis) rocker Zack Weber and television composer, (Pawn Stars, American Pickers, McDonald's commercial) L.J. Nachsin, is the result of a three month studio collaboration. "When I first heard what Zack and Larry were doing, I was blown away," says Such. "The music was so melodic and the song stories so interesting our team had to create a musical around it."
"BAM!" has been over two years in development. Finding a story to fit the music took the creative team from an original play to Shakespeare. Then, the decision to film on stage seemed like a perfect conclusion. "We're really shooting a $30,000 movie musical," Mr. Such said. "Our agreement with the talent is such that there will only be a limited number of the final video and cast recording available. We've even discussed hand numbering the disks! When "BAM!" achieves popularity, we'll produce a full fledged version for commercial release. And there's still time for someone to jump in as executive producer!" he laughed.
With the release this week of Josh Whedon's "Much Ado" film, Such and his company, TradRad Pictures hope audiences will become fans of the Bard's dark comedy. "'Much Ado' begins in a similar fashion to Shakespeare's "The Taming of the Shrew," with a battling couple and lots of deception," Such explains. "Then things get REALLY dark, really fast! "Much Ado" shows the brilliance of the Bard at his storytelling best!"
The Kickstarter campaign ends on Friday at 3:30 EST.